TV Shows
Published March 18, 2021
'WandaVision': How the Writers Brought Wanda and Vision to Life
Take a peek inside the writers' room of the Disney+ series!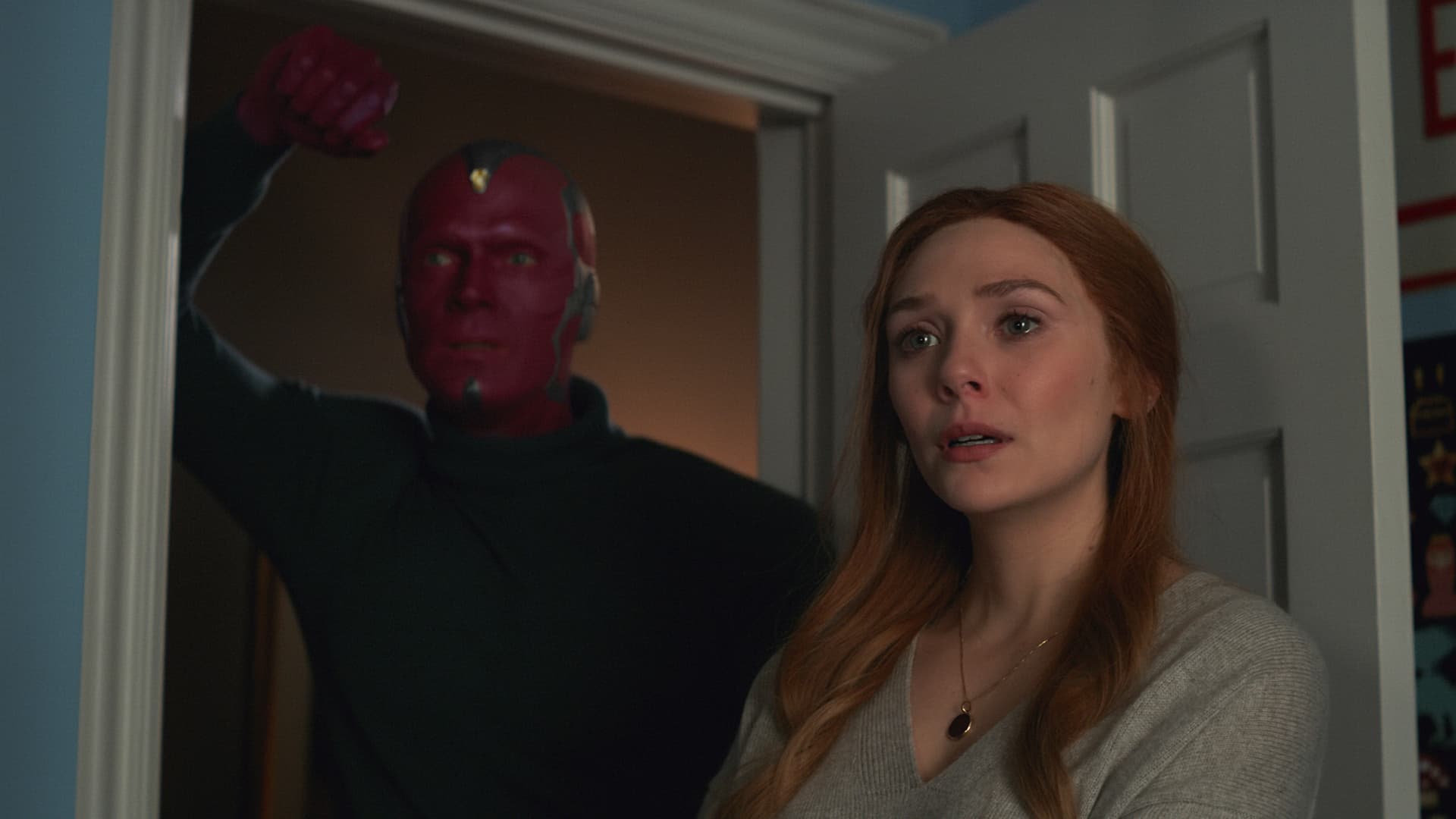 If you and your friends held WandaVision watch parties on Friday nights (or early Friday mornings at 3:00 am EST), you're not alone in celebrating the release of brand-new episodes. In fact, the creative team behind Marvel Studios' WandaVision did the same exact thing.
"Every single week, we've been getting together to watch the episodes as they air. Sometimes we have a theme," co-executive producer Mary Livanos explained to Marvel.com. "We did many different decades [looks]. And we all sort of dressed up in our finest for the finale, which was very silly over [a video chat]."
But this kind of group camaraderie grew out of the writers' room, helmed by head writer Jac Schaeffer, in order for "communication to remain alive throughout the entire process… we all felt so much towards the show, and Jac really paved the way to make sure that the WandaVision space was a place where we could communicate openly, and honestly, and always put character first for sure."
"The writers' room, indeed, was a really magical cool process, and all of the writers are so thoughtful, and talented, and caring people," Livanos continued. "The mix created a really cool alchemy of different perspectives. Everyone was just so passionate about Wanda's core emotional journey, depicting that in a thoughtful way. It's really shown in the audience response, and so much of that had to do with just the thoughtfulness that Jac and all the writers put in."
"Everybody brought amazing stuff to the writers' room," Schaeffer told Marvel.com. When asked about the staff of the series, Schaeffer nearly geeks out, asking if she could "fully get in the weeds about this" before driving into what each writer on the team brought to WandaVision. Wondering how some of the most memorable stand out moments that made you laugh and cry first came together on paper? It all started with the writers' room.
"Bobak Esfarjani brought all of that amazing structural world building, cliffhangers, mythology, like all that rigorous discipline in mystery storytelling, which is so vital to the equation," Schaeffer began. "Gretchen Enders is a genuinely hilarious human being. She [added the] 'flourish" in the magic show, and [bringing] the beds together. That is Gretchen Enders, her personality and her sass. Dottie would not exist without her and her particular brand of sass and snark in the best way."
"Megan McDonnell was my science person. She was in there matching the radio frequencies for Dr.  Darcy Lewis. Mackenzie Dohr is like a dyed-in-the-wool sitcom writer; she was there with all of the comedy, and all of the silliness, and all of the character building from the joyful out. Peter Cameron—we like to say that he's vaudeville and darkness because he has this funny quality to his work that has a little bit of lightness and circuses to it. And he was our Jimmy Woo [translator]. He could speak in Jimmy Woo's cadence at any turn and [developed] the Jimmy Woo-isms."
"Cam Squires is just everything. He convinced me to have the Hex expansion turn the pop-up base into a carnival, and I had doubts. He was like, 'It's going to work.' And I was like, "All right, Cam Squires, you make that work." And can you imagine it not being a circus [now]?" Schaeffer continued. "And then Clay Lapari, our writer's assistant, came in hot with mythology. He was the one who came up with the hearts, the misunderstanding about the hearts and the dinner, which was so vital. I never could have written the pilot without him. And Laura Donney — the penultimate episode. All of the heart, the soul, and the story of grief and loss and the elegance of writing, I cannot-— I don't actually have the words to talk about what a special talent she is."
"Chuck Hayward had the ability to do those cheesy jokes and have them all sing and be amazing and hilarious. And always with the pop culture references and bringing the right songs to the table. He also is just a joy bomb as a person, so all the sort of cheerleading and uplifting in the room."
And last, but certainly not least, Schaeffer ended with her assistant. "Laura Monti was instrumental in both keeping me sane and managing the work flow and evolution of the scripts.  She made it possible for me to do my job well and she is the best sounding board a head writer could ask for.  Also, the joke in [Episode 3] when Dottie asks if her earrings make her look fat! That was the work of our very own Agent Monti."
As for Schaeffer herself, Livanos explained how she brought everything together. "Jac is an incredible creator. She's an incredible person, incredibly empathetic. And you can see that reflected in the work, and it was certainly felt throughout the process in the writers' room."
Every episode of Marvel Studios' WandaVision is now streaming on Disney+.
Want more exciting information about Phase 4? Find the latest Marvel Cinematic Universe news right here — and stay tuned for more!
This is just the beginning of the Phase 4 news. Stay tuned to Marvel.com for more details! And be sure to follow Marvel on Facebook, Twitter, and Instagram.
Looking for more Marvel movies and shows to stream? Check out everything on Disney+, Hulu, and ESPN+ right here, and where to find all your favorite Super Heroes right here. Sign up for Disney+ and start streaming now!
The Hype Box
Can't-miss news and updates from across the Marvel Universe!