Comics
Published February 19, 2020
Infographic: The Best Way to Read 'Marvel's Voices' #1
For fans of flow charts AND great stories, this is the ish for you!
MARVEL'S VOICES #1 is in comic shops today -- but it's not an ordinary Marvel comic! This is a carefully curated collection of essays and stories spun out of Marvel's acclaimed podcast series Marvel's Voices -- hosted by Angélique Roché -- that focuses on telling the stories of diverse creators and their unique perspectives, presented as a one shot of brand new adventures starring the X-Men, Killmonger, and more!
Marvel.com has been featuring the essays that appear in the issue, but for the best reading experience, follow this chart (right-click the images to view full size):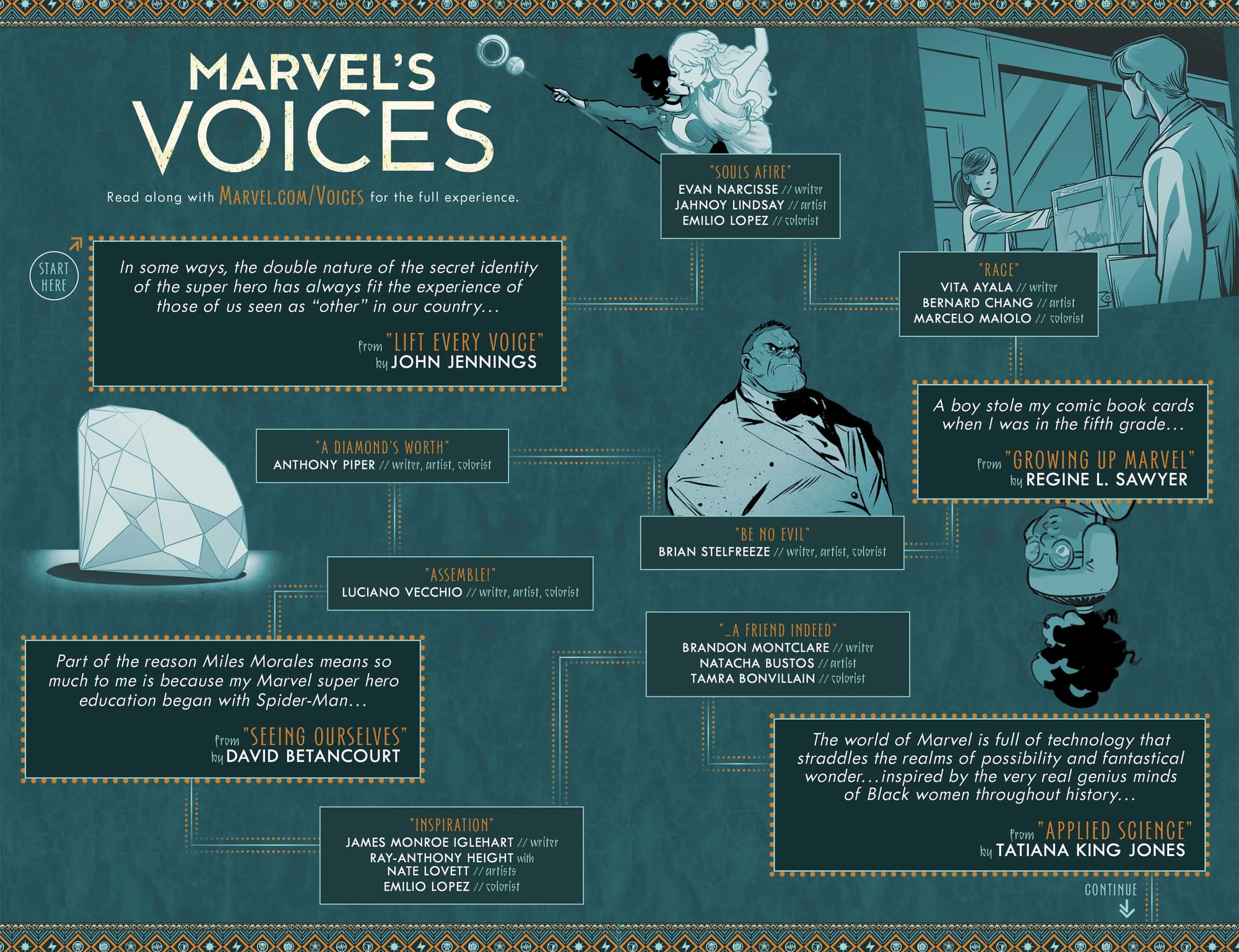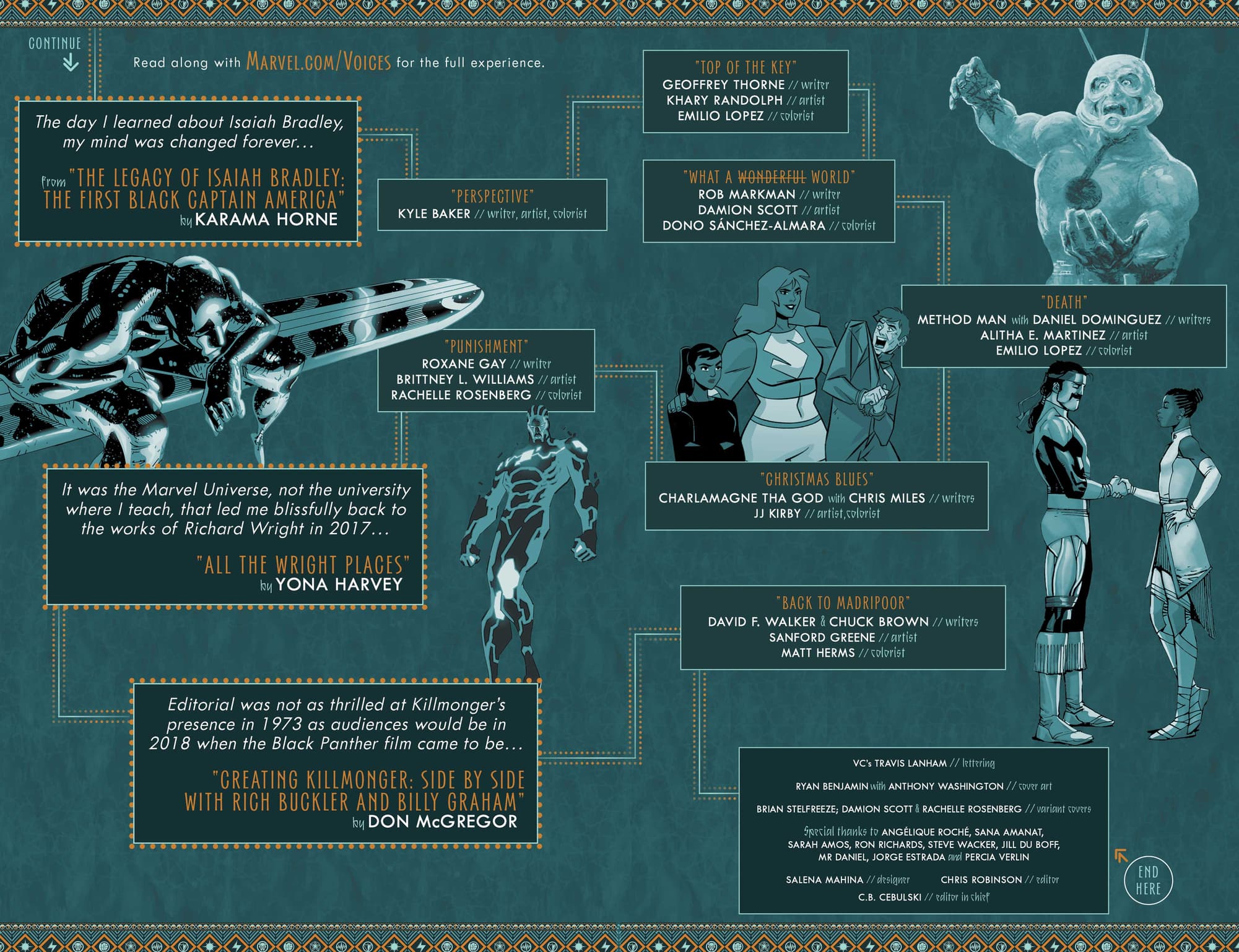 Want a more text-based version? Here's a list!
"Souls Afire" written by Evan Narcisse, art by Jahnoy Lindsay, colors by Emilio Lopez
"Race" written by Vita Ayala, art by Bernard Chang, colors by Marcelo Maiolo
"Be No Evil" written and drawn by Brian Stelfreeze
"A Diamond's Worth" written and drawn by Anthony Piper
"Assemble!" written and drawn by Luciano Vecchio
"Inspiration" written by James Monroe Iglehart with art by Ray-Anthony Height and Nate Lovett and colors by Emilio Lopez
"...A Friend Indeed" written by Brandon Montclare with art by Natacha Bustos and colors by Tamra Bonvillain
"Perspective" written and drawn by Kyle Baker
"Top of the Key" written by Geoffrey Thorne with art by Khary Randolph and colors by Emilio Lopez
"What a Wonderful World" written by Rob Markman with art by Damion Scott and colors by Dono Sánchez-Almara
"Death" written by Method Man and Daniel Dominguez with art by Alitha E. Martinez and colors by Emilio Lopez
"Christmas Blues" written by Charlamagne Tha God and Chris Miles with art by J.J. Kirby
"Punishment" written by Roxane Gay with art by Brittney L. Williams and colors by Rachelle Rosenberg
"Back to Madripoor" written by David F. Walker and Chuck Brown with art by Sanford Green and colors by Matt Herms
MARVEL'S VOICES #1 is on sale now online and at your local comic shop!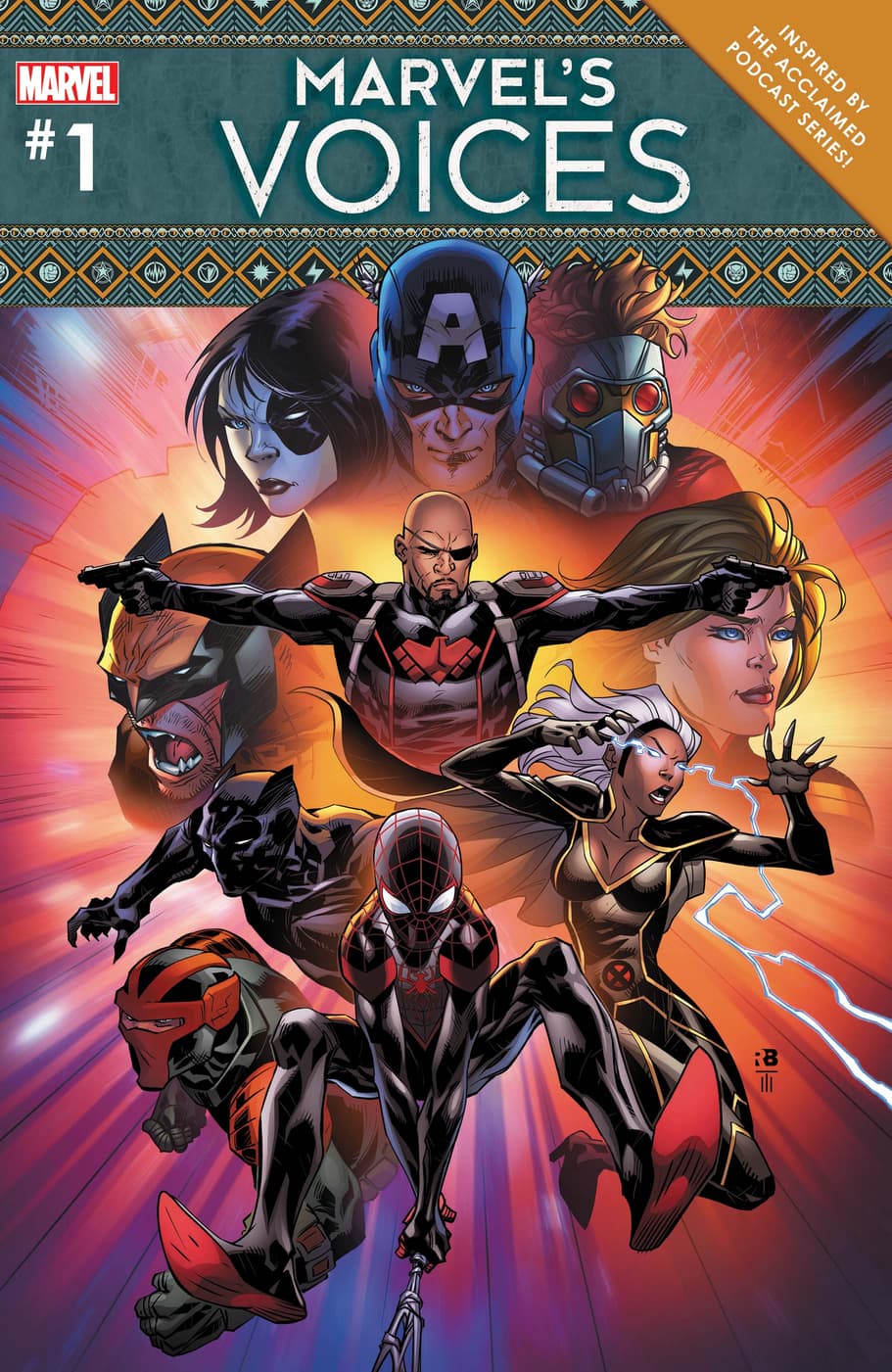 The Hype Box
Can't-miss news and updates from across the Marvel Universe!