Comics
Published July 26, 2023
SDCC 2023: Watch the 'Marvel: Next Big Thing' Panel in Full
All the breaking news—including the first look at Marvel Comics' major crossover event 'Gang War'—announced at this year's San Diego Comic-Con!
Each year, the Marvel: Next Big Thing panel is one of the most anticipated moments of San Diego Comic-Con as it's where fans gather to learn about the most monumental sagas coming to the Marvel Universe. San Diego Comic-Con 2023 was no different as Marvel Comics Editor-in-Chief C.B. Cebulski and Executive Editor Nick Lowe were joined by Senior Editor Jordan D. White, Editor Sarah Brunstad, AMAZING SPIDER-MAN (2022) writer Zeb Wells, GUARDIANS OF THE GALAXY (2023) writers Collin Kelly and Jackson Lanzing, X-MEN (2021) writer Gerry Duggan, and MS. MARVEL: THE NEW MUTANT co-writer Sabir Pirzada to deliver a wealth of thrilling announcements about all the amazing things coming to the world of Marvel Comics this year.
Grab all the breaking news from Marvel: Next Big Thing here, including a first look at the next major Marvel crossover event GANG WAR, a peek inside the FALL OF X, a new TIMELESS special, and much more.
THE FALL OF X IS HERE
"Well, Autumn is coming," joked Gerry Duggan when asked about the impending downfall of mutantkind. "Without spoiling too much, the mutants on Krakoa have enjoyed a really long winning streak, and I think it's safe to say some of the winning is over."
While they were busy achieving greatness, it turns out that the mutants' deadliest enemies have been plotting their downfall. The opening strike to the FALL OF X takes place in this week's X-MEN: HELLFIRE GALA (2023) #1, an organized attack by Nimrod, Omega Sentinel, Moira MacTaggert, Feilong, and other anti-mutant foes from the ruthless super villain group called Orchis. The catastrophic events of the Hellfire Gala will send your favorite characters away from the safety of Krakoa and into a dark new age. Filled with bold developments and shocking directions, FALL OF X will be a thrilling and unpredictable period of X-Men storytelling that will unfold in new arcs of continuing X-Titles, as well as all-new limited series.
Nick Lowe shared a first look at the FALL OF X covers, while Duggan teased Iron Man's involvement and upcoming marriage(?!) to Emma Frost. "It's the wedding of two people that can't stand each other. [But] it will make perfect sense when we get there. If you are repulsed by this, I can promise that you will only want more come August, September, and October."
[RELATED: Tony Stark and Emma Frost Tie the Knot in 'X-Men'/'Invincible Iron Man' Crossover Event]
Co-writers Collin Kelly and Jackson Lanzing also shared exclusive details about their "Grootfall" arc, playing out in ongoing run GUARDIANS OF THE GALAXY. "Starting in GUARDIANS OF THE GALAXY #1 we introduced the idea of 'Grootfall,' teased Lanzing. "That being a mysterious and largely evil-seeming Groot that [is] landing on planets, terraforming them into Groots, and killing everything on those planets."
What is Grootfall? And how did it come about? That, and more, will be revealed in this September's GUARDIANS OF THE GALAXY #6.
Sharing an incredible cover from artist Kael Ngu, this year's TIMELESS one-shot is also written by Kelly and Lanzing, with interior art by Juann Cabal. It will hit comic shops in December.
"Welcome to the dark future of the Marvel Universe," said Lanzing. "At the end of time, one hero remains. He wields the powers of Iron Man, the will of Khonshu, and the very machine of the Eternal Earth. He is… the immortal Moon Knight."
But one man stands against Khonshu's coming tide of chaos: Power Man, the Marvel Universe's final living super hero who's come into possession of the unstable powers of the Sentry, the Hulk, and the Iron Fist. What dark, deeply personal conflict underpins this mind-bending apocalypse? And at the end of the line, can the Marvel Universe ever truly be saved?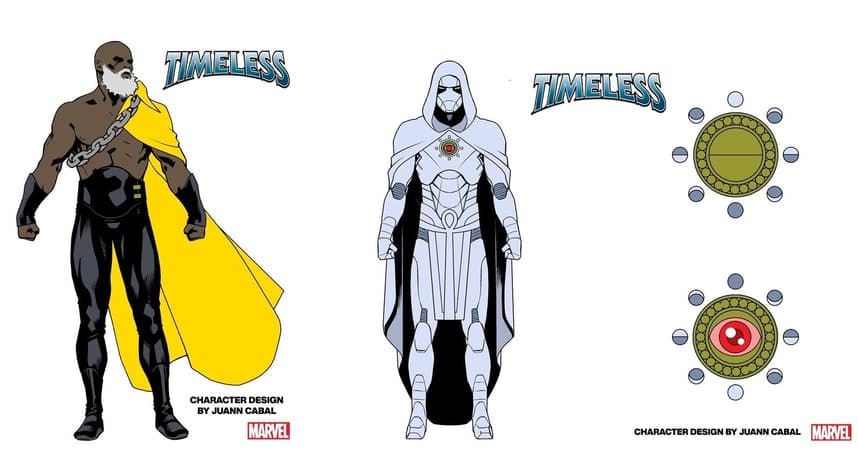 Following the revelation in this week's X-MEN: HELLFIRE GALA (2023) #1 that Ms. Marvel is actually both an Inhuman and a mutant, witness the start of an extraordinary new era for the character in MS. MARVEL: THE NEW MUTANT, a four-issue limited series co-written by the MCU's own Kamala Khan, Iman Vellani, and Sabir Pirzada, who was part of the recent DARK WEB: MS. MARVEL limited series and Marvel Studios' Ms. Marvel! Together, they'll tackle Kamala's journey as the newest member of the X-Men.
"The moment Iman joined [the series], all of a sudden everything took on a whole new life and a whole new collaboration," shared Pirzada. "We had the right person who just embodies Kamala inside and out."
After revealing the first three covers from the run, Next Big Thing also debuted a series trailer gearing up for its first issue hitting comic shops August 30.
The Spider-Event of the year will kick off this November and December!
Spinning out of Zeb Wells and John Romita Jr.'s hit run of AMAZING SPIDER-MAN, GANG WAR will see a war erupt between the gang lords of New York City, causing chaos throughout the Big Apple. Villains are fighting villains. Criminals are fighting criminals. Hobgoblin, Mr. Negative, the Owl, Shotgun, Diamondback, A.I.M., Hydra, and more battle with and against each other for NYC supremacy. For Peter Parker, "going on patrol" isn't enough... and he declares his own war on super-crime. It's General Spidey at the helm, leading a group of heroes that includes fellow Spider-Man Miles Morales, She-Hulk, Daredevil, and Spider-Woman. Their goal: take down the super-gangs in under 48 hours. But what does Mayor Luke Cage and the city's strong anti-vigilante laws have to say about it? Will Jackpot gamble on getting involved? And is Shang-Chi a friend or foe? They better all figure it out before two classic villains make a game-changing return!
See all the announced tie-in series, covers, and creative teams from GANG WAR, and read this street-level epic when it kicks off with the "First Strike" prelude issues!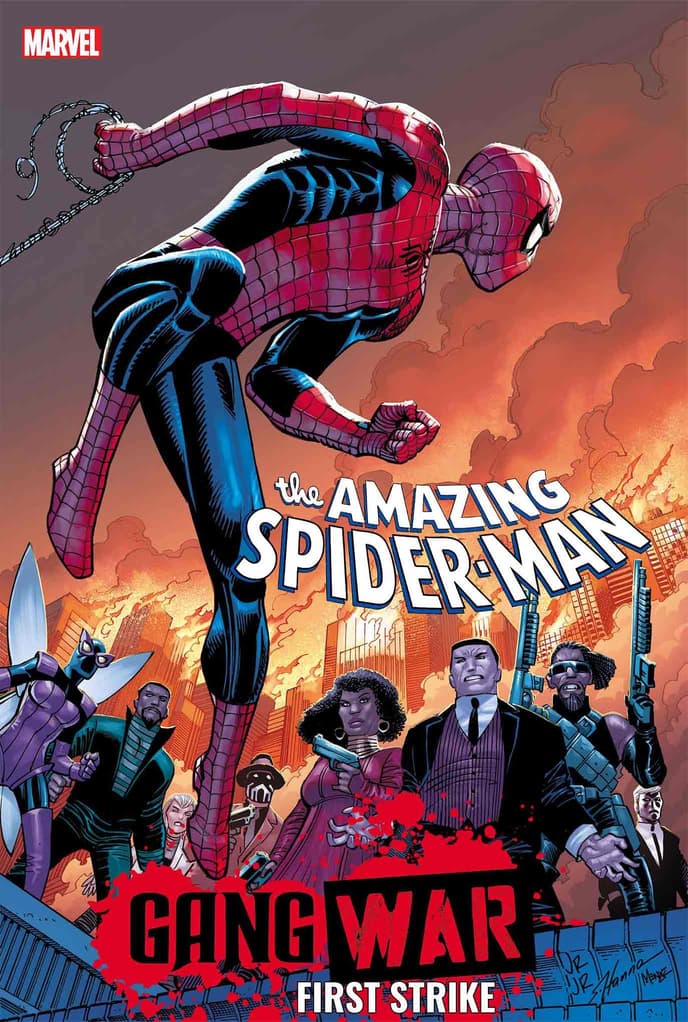 The Hype Box
Can't-miss news and updates from across the Marvel Universe!