Comics
Published February 4, 2022
The Complete History of Wolverine: The Wandering Years
Part 2 of Wolverine's chronological comics history! Wherever Logan goes, it's never a dull time.
In Part 1 of Wolverine's Complete History, we covered James Howlett's earliest years, his new identity as Logan, and a first retreat to the wilderness.
Welcome back!
Last time, we took a deeper look into Wolverine's early years. James Howlett is a child when he finds out that he isn't normal and is forced to grow up in order to survive. If you think his first years are rough, you've just seen the tip of the iceberg. In issue #3 of LIFE OF WOLVERINE, an Infinity Comics series available on the Marvel Unlimited app, it is revealed that from the very beginning Logan's life—with few exceptions—was destined to be very, very violent.
MADRIPOOR DAYS
After fleeing Dr. Essex's lab (2013's ORIGIN II), Logan decides that he wants a change in scenery. Can you blame him? He travels to the island of Madripoor, which is filled to the brim with "traders, treasure, and thieves." A perfect place for debauchery. Logan meets Seraph, the proprietor of the Princess Bar, and he mentions in WOLVERINE: ORIGINS ANNUAL (2007) #1 that he worked for her as a… "freelancer." That doesn't sound sketchy at all. 
During his "freelancing," Logan runs into the eldest Creed brother, Victor, on a mission in Tokyo. This will not be the last time the wild men meet each other. Logan continues his dirty work, but after a while, it becomes unfulfilling, so he leaves Seraph and Madripoor behind.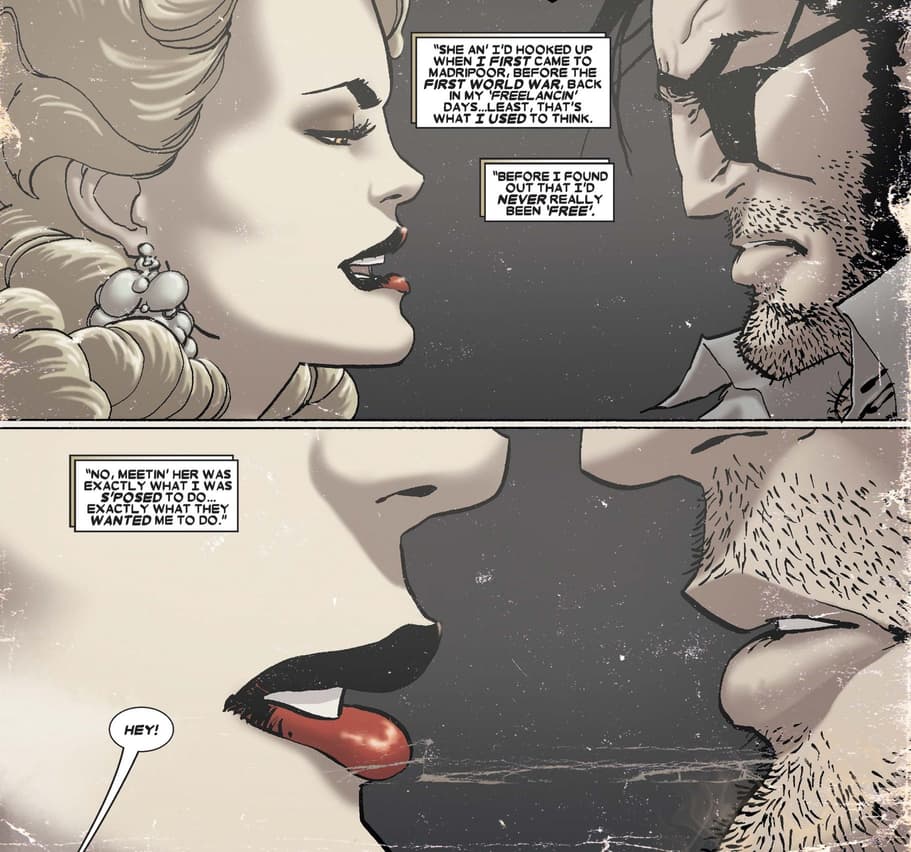 RETURN TO CANADA
There really must be no place like home because Logan makes his way back to Canada. He settles down with a woman named Silver Fox. They fall deeply in love, and Logan easily recalls their idyllic cabin home and even a pet dog named Blue in WOLVERINE (1988) #49. The good times come to a screeching halt when Victor, now called Sabretooth, kills Silver Fox—on Logan's birthday—in WOLVERINE (1988) #10 because she rejected Creed's advances. They brawl hard, from the saloon to the snowy cliffs. But Sabretooth takes so much pleasure in Logan's reaction that he makes it his life mission to stalk and fight Logan on his birthday every year. 
Logan returns to being a mercenary, working under the Hudson Bay Company, shown briefly in WOLVERINE ORIGINS (2006) #33. He's more than a good fit for the job. Due to his advanced skill in "protectin'," Logan is recruited into the Devil's Brigade, an elite unit of the Canadian military, by Frederick Hudson. World War I begins, and Wolverine does what he does best. In a flashback in WOLVERINE (2003) #58, Wolverine spots the Angel of Death, Lazaer (or Azrael, whichever you prefer) on the frontlines of Belgium in 1915. Apparently, every time Logan dies, his soul is transported to Limbo, and Lazaer battles him for it. (That has to get tiring because Logan dies a lot!) Logan physically survives the war, but mentally? Dude's tired.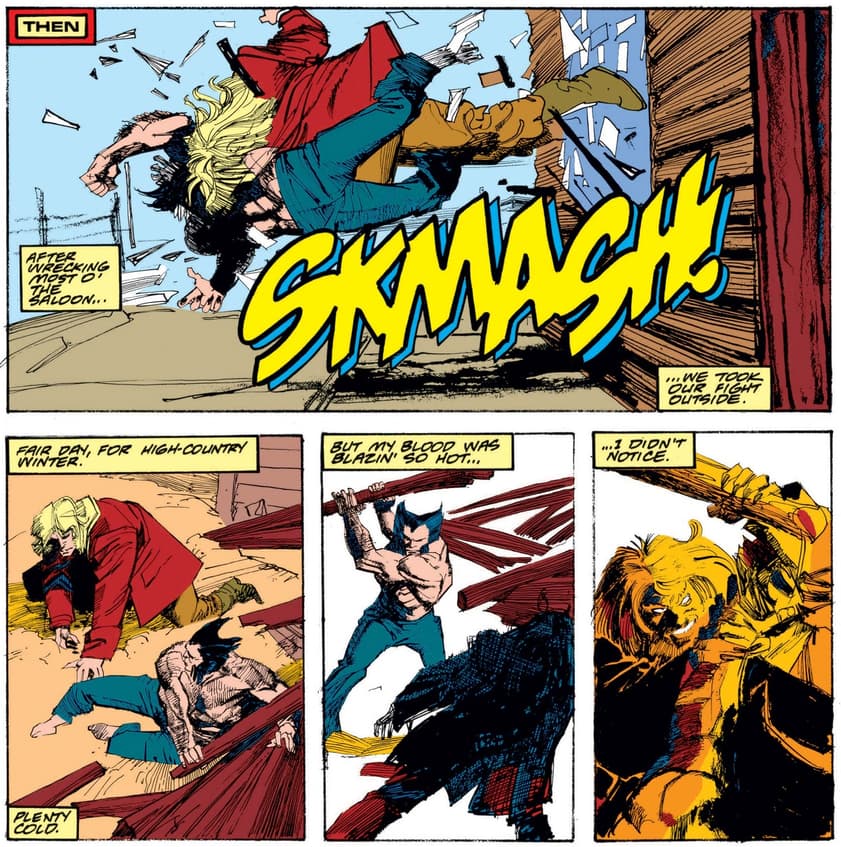 DRIFTING
After World War I, Logan is in Shanghai doing absolutely nothing but getting drunk. It's here that he has a chance encounter with Ogun, a Japanese Army captain. When Logan stops a clash between Ogun's soldiers and some citizens, Ogun offers to teach the surly man at his dojo in Kanazawa. Logan declines.  
Years later, in 1921, Logan ends up in Mexico. He and a very blue woman named Raven Darkholme, later known as the shapeshifting mutant Mystique, are in the Sonoran Desert about to be shot by a firing squad in WOLVERINE (2003) #62. Fortunately, Logan saves them both, and they escape to Kansas City. Raven wants to build a "family" of thieves in the following issue, but Logan isn't gung-ho about the idea. He hasn't met a lot of trusting people in his line of work, but Raven manages to seduce him into going along with her plans. The next issue, Logan and everyone except Raven are robbing a bank. Suspicious. Not much longer after they break in, security arrives. They've been set up! Should've stuck with your gut, Logan. He is able to flee at the end of the arc but is framed for the failed bank heist. To say his relationship with Raven is frayed after this event is a major understatement. 
In the first story of WOLVERINE: THE AMAZING IMMORTAL MAN & OTHER BLOODY TALES (2008) #1, Logan ends up on display in a circus again. How? He was caught in Tennessee stealing chickens. Yes, the mercenary is pulled back into a circus environment because he wasn't stealthy enough to catch his dinner. The silver lining is meeting and falling in love with Olga, the lion tamer's assistant. As par for the course in Wolverine's life, this romance doesn't last. Olga dies in childbirth, and then there is a plot to end Logan's life. It doesn't work, obviously—it's going to take more than some lions and a little fire to stop him. Said fire burns down the circus, and Wolverine uses the chaos to escape.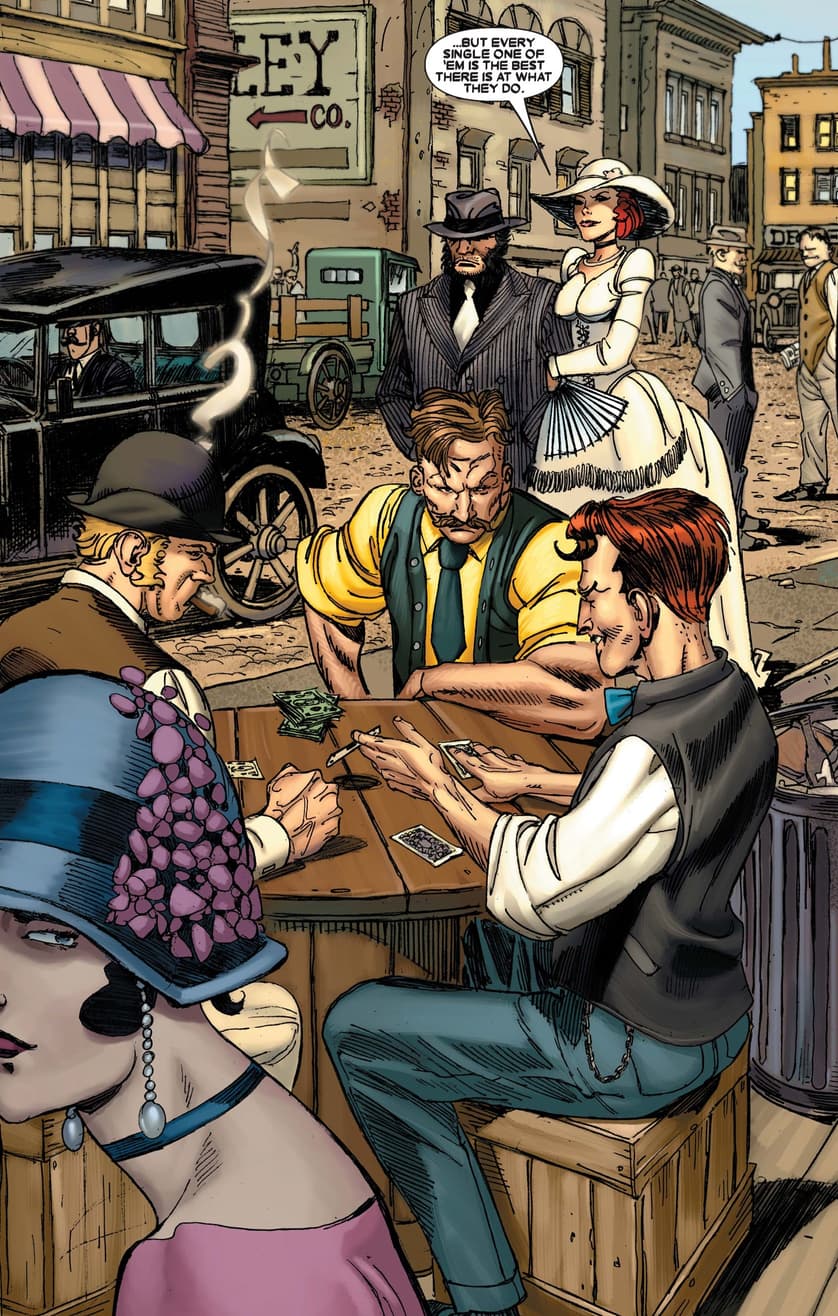 MADRIPOOR BOUND 
Logan makes a return trip to Madripoor under his new alias, Patch, in 1932. Seraph is more than excited to see her favorite freelancer again in WOLVERINE: ORIGINS ANNUAL (2007) #1. Logan is head over heels for her. If she has a target that needs "taken care of," he does so "without question." Even though Logan is doing all this dirty work for her, there are secrets she keeps from him. Once again, he leaves the island in search of new work or a fresh chance.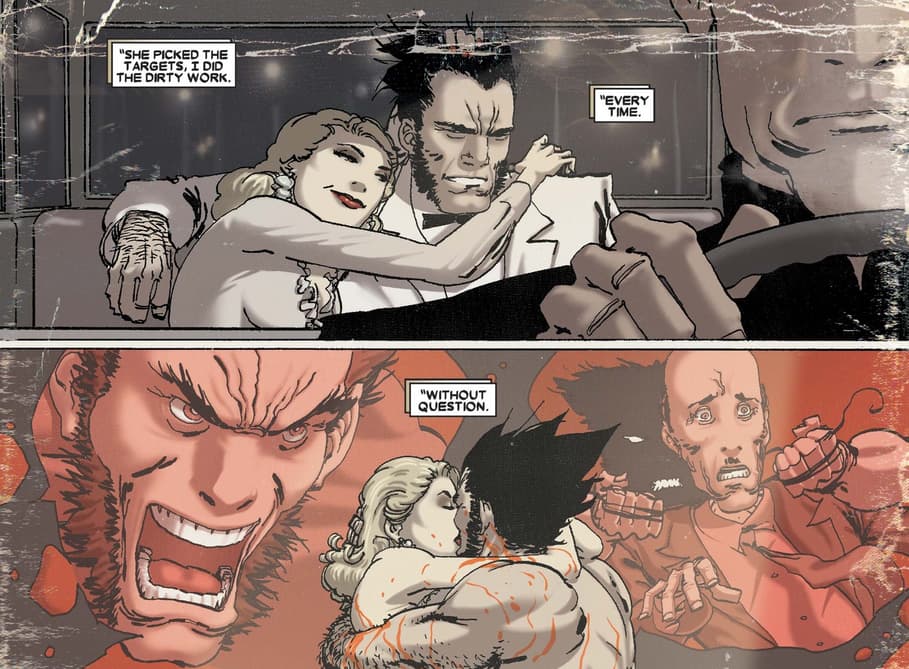 THE WAY OF THE SAMURAI
Logan, years after meeting Ogun, takes him up on his offer and travels to Japan to learn the way of the samurai. In WOLVERINE (1988) #89, there is a flashback of the two training with wooden practice swords. Ogun shows him no mercy, and Logan, not able to get a single hit in, loses control. He taps into his berserker rage and wins the fight easily against Ogun. Ogun asks him is the win worth it if he can't discern which part of him—the man or the beast—led him to victory. Logan is apologetic for his actions, as he sees Ogun as a father figure. 
Through a flashback in WOLVERINE (1988) #169, a different side of Ogun is shown. Weeks after Logan becomes Ogun's student, an old enemy of Ogun's, Hana, attacks the dojo with ninjas in tow. Logan is ready to fend for his sensei, but Ogun tells him to stand down and that this matter is between him and Hana. Ogun masterfully defeats the ninjas and moves on to fight Hana. The crime lord stabs him with his katana, and Ogun laughs. With the sword still in his gut! That same sword is used to end Hana's life. It's unknown when exactly Logan leaves Ogun's dojo, but he doesn't finish his training with him. Probably because of the shining red eyes he displayed during the fight or announcing, while smiling, "death herself was no match for him." Just a guess.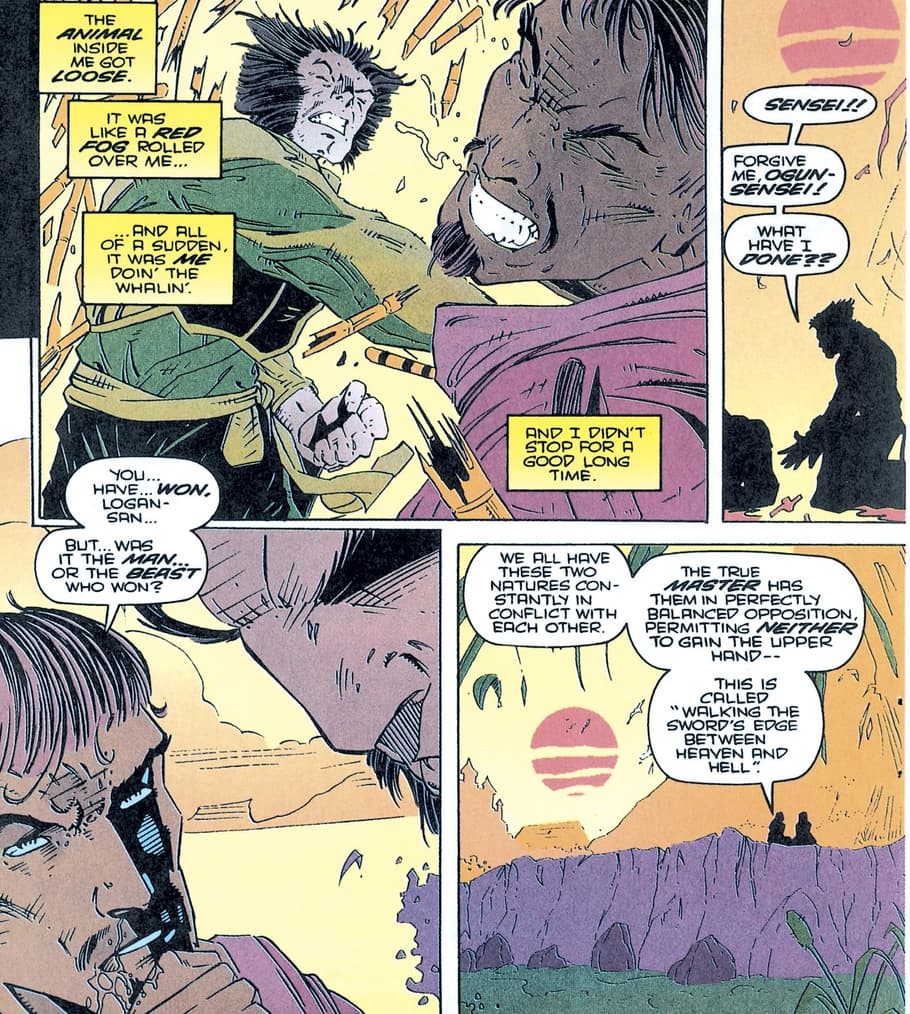 SPANISH CIVIL WAR? 
Yup, you read that correctly. Wolverine is involved in the Spanish Civil War, in a very roundabout way. He and his buddy Eugene Judd (AKA Alpha Flight's Puck) are accidentally teleported to 1937 by a mutant named Gateway in WOLVERINE (1988) #35. They aren't the only ones displaced in time. Lady Deathstrike, the reason why they are transported to the past to begin with, wants Logan dead, just not during the middle of a war. It's very inconvenient. Their time in the war changes the future, so much so that when they return in WOLVERINE (1988) #37 Logan appears in a picture that he wasn't previously in. But Lady Deathstrike isn't done with Logan. Not even close.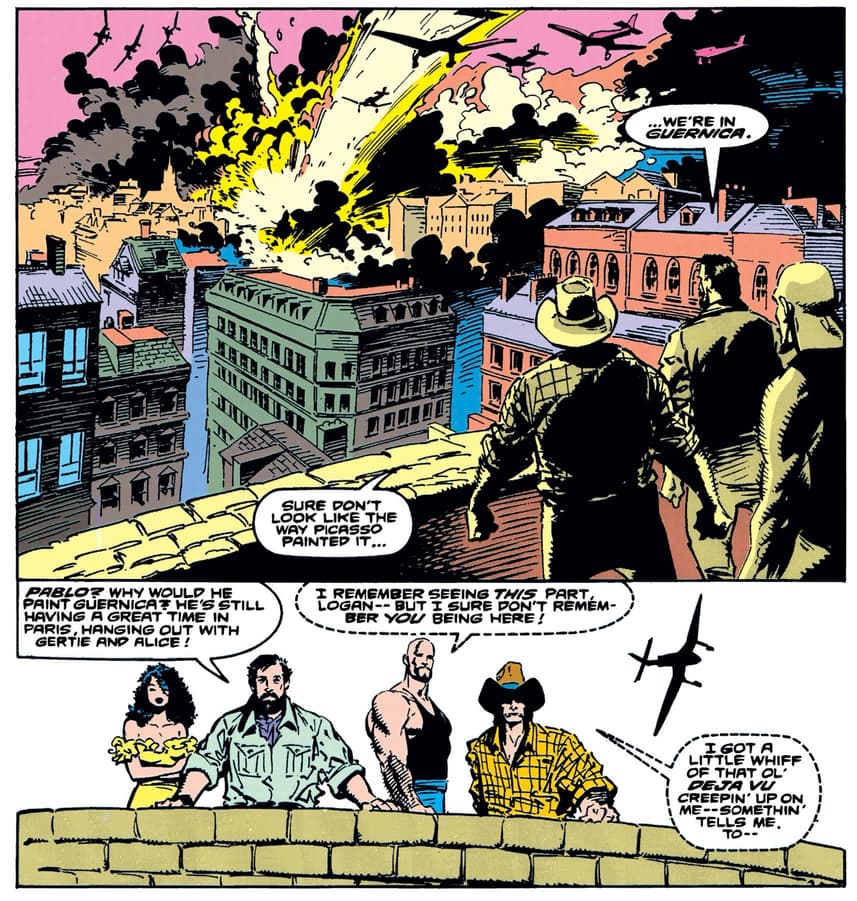 PREPARING FOR ANOTHER WAR 
After years on the move, trackers find Logan and bring him back to Seraph in Madripoor, as shown in WOLVERINE ORIGINS (2006) #17. Logan is back to working for her, and to further hone his talents, Seraph sends Logan to train with Taras Romanov to learn about espionage. In WOLVERINE ORIGINS (2006) #9, Taras makes quite the explosive first impression, setting up a fake train robbery that also has his daughter on board. Some dads teach their daughters life lessons, and others involve their child in dangerous spy work. Logan becomes a bit of a mentor to Natasha, teaching her hand-to-hand combat while he's being taught espionage by her dad. Natasha grows so fond of Logan that she calls him "Little Uncle." It warms his heart. 
One night, the true reason for Logan's trip is revealed. Logan assassinates Taras after gauging how much information he knew, especially who Logan really works for. He then frees Natasha by faking her death. It's super ironic because she was trained to kill him. Unbeknownst to Logan, Natasha would eventually be sucked back into the world of spies. 
Logan treks back to Madripoor, and by 1941, the world has been thrown into another conflict on a global stage: World War II. In a flashback from UNCANNY X-MEN (1963) #268, Logan works for Seraph as a spy. On one summer's day, Logan steps in to help an American soldier fight off members of the Hand, an evil ninja clan. They make a great team, and the man in stars and stripes introduces himself as Captain America, the "first costumed hero" Logan ever meets.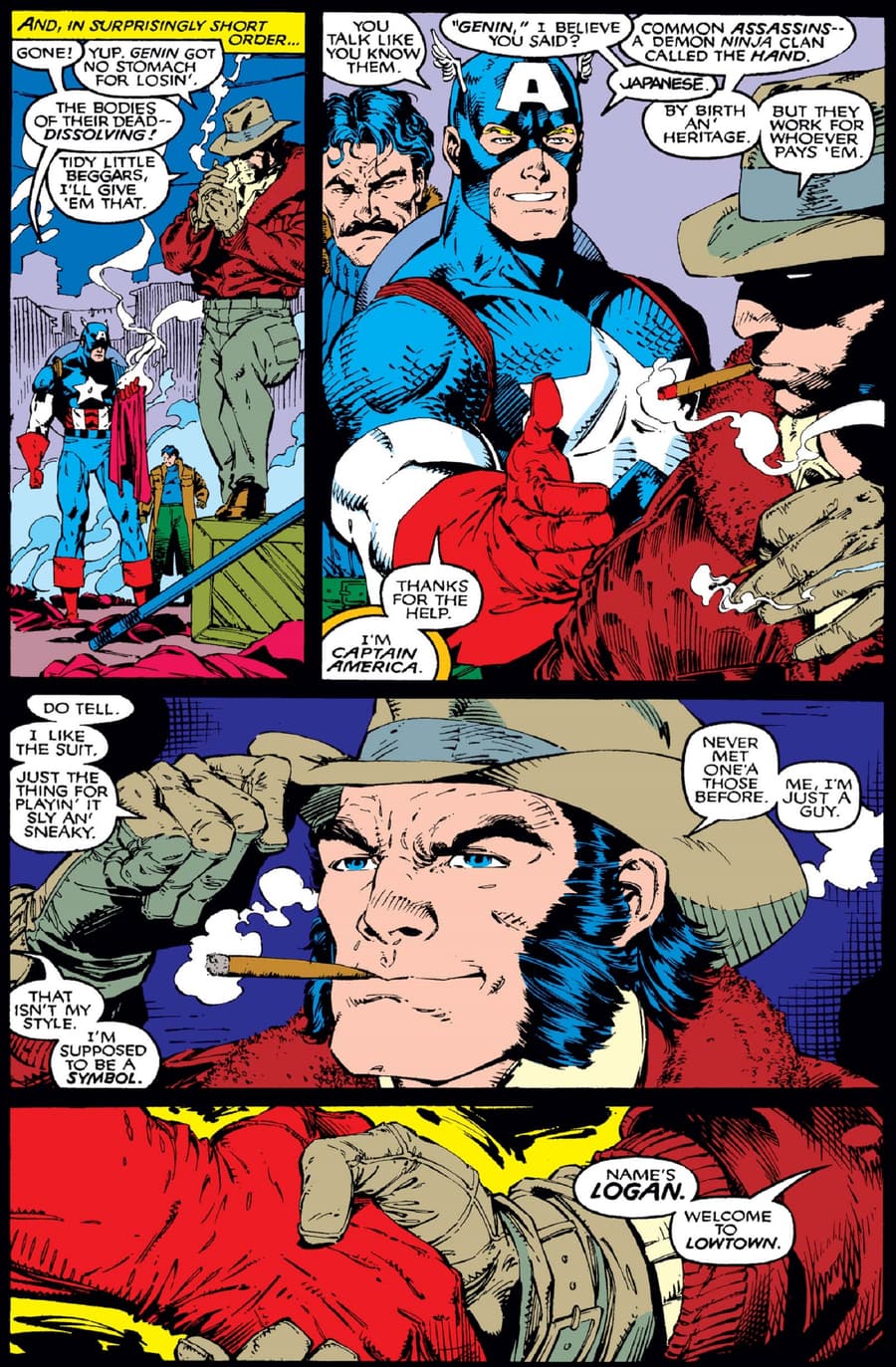 Logan is intrigued by this walking "symbol." Will meeting Captain America lead to him turning over a new leaf or will Logan continue down the destructive and bloody path he's already on? Can't spoil it for you! You'll have to read the next issue of the Infinity Comics series LIFE OF WOLVERINE. In the meantime, every comic mentioned in this article can be read on Marvel Unlimited! 
Follow Marvel Unlimited on Twitter and Facebook to stay tuned in to weekly announcements, articles, and more, all at @MarvelUnlimited. Follow us today to join the conversation with thousands of fellow fans and let us know what you're reading! 
The Hype Box
Can't-miss news and updates from across the Marvel Universe!