Comics
Published February 18, 2022
The Complete History of Wolverine: From Weapon X to X-Man
Part 4 of Wolverine's chronological comics history! Logan hits his lowest point, but he can only go up from here...
In Part 3 of Wolverine's Complete History, we explored Logan's time on the frontlines of war and a life-changing move to Japan.
Let's see what we've covered so far: The origin of James Howlett, Wolverine's wandering years in Madripoor, his history as a spy, as a soldier of World War II and Vietnam... and as a covert operative of Team X. In the midst of all this, the X-Man also known as Logan was able to (briefly) experience domesticity and happiness with his wife Itsu in Japan. In vertical Infinity Comics series LIFE OF WOLVERINE, available to read on the Marvel Unlimited app, Logan's life takes a drastic turn for the worst. And his memories, the ones he has left, will take a massive hit.
Noted in NEW X-MEN (2001) #145, Project: Rebirth, the program that created the first Super-Soldier, is rebranded as Weapon Plus. The tenth version under Weapon Plus is called Weapon X (the Roman numeral for ten) and is conducted by Department K. The selected subject is none other than the multi-clawed immortal man from Alberta, Canada. This is the event that transforms Logan into the Wolverine.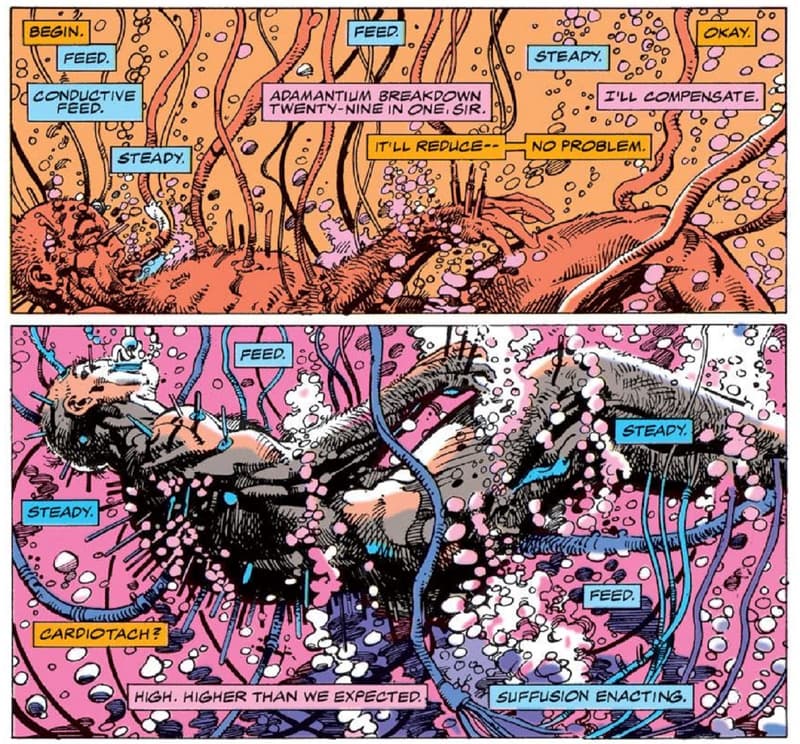 The people in charge of the Weapon X project are Dr. Abraham Cornelius, Dr. Carol Hines, and Truett Hudson, more formally known as "the Professor." The latter is the cruelest of them all and intends to make Logan, Experiment X, "the perfect killing machine." To do so, Logan's mind is erased, and adamantium is grafted to his simultaneously-healing skeleton. Control over Logan is quickly established via operant conditioning. Even after two men are killed by him, and the doctors see visuals of Logan's pain projected on a large screen, they continue to experiment in the name of science. Logan is tested constantly, with duels against a pack of wolves and a gigantic bear. Naturally he succeeds. The Professor tests how much control he has over Logan by making his test subject pop and retract his new adamantium claws one at a time. He is extremely sure that a new Super-Soldier will be created from Experiment X.
But somehow, Logan temporarily breaks from the Professor's control, and he unleashes chaos on the compound. Guards are downed, Dr. Cornelius is brutalized, and the Professor's hand is amputated. But his hand won't be the only thing he loses… The Professor then pushes Dr. Hines into an exhaust pit to lure Logan and kill him. Logan doesn't harm Dr. Hines, but he very much wants to harm the Professor. Logan survives the exhaust pit (as does Hines) and resumes his attack. The Professor is killed and Logan is finally free. Yes? No.
It's revealed that everything Logan faced was a façade, another test, but he initially doesn't know that. Actually, Logan doesn't know anything because Weapon X's conditioning has wiped his memories. What's left of his fractured mind leaves him to believe that his claws are the result of experimentation, not mutation. Terrified of what he's become and with nowhere else to go, Logan escapes into the Canadian wilderness. Revenge will have to wait.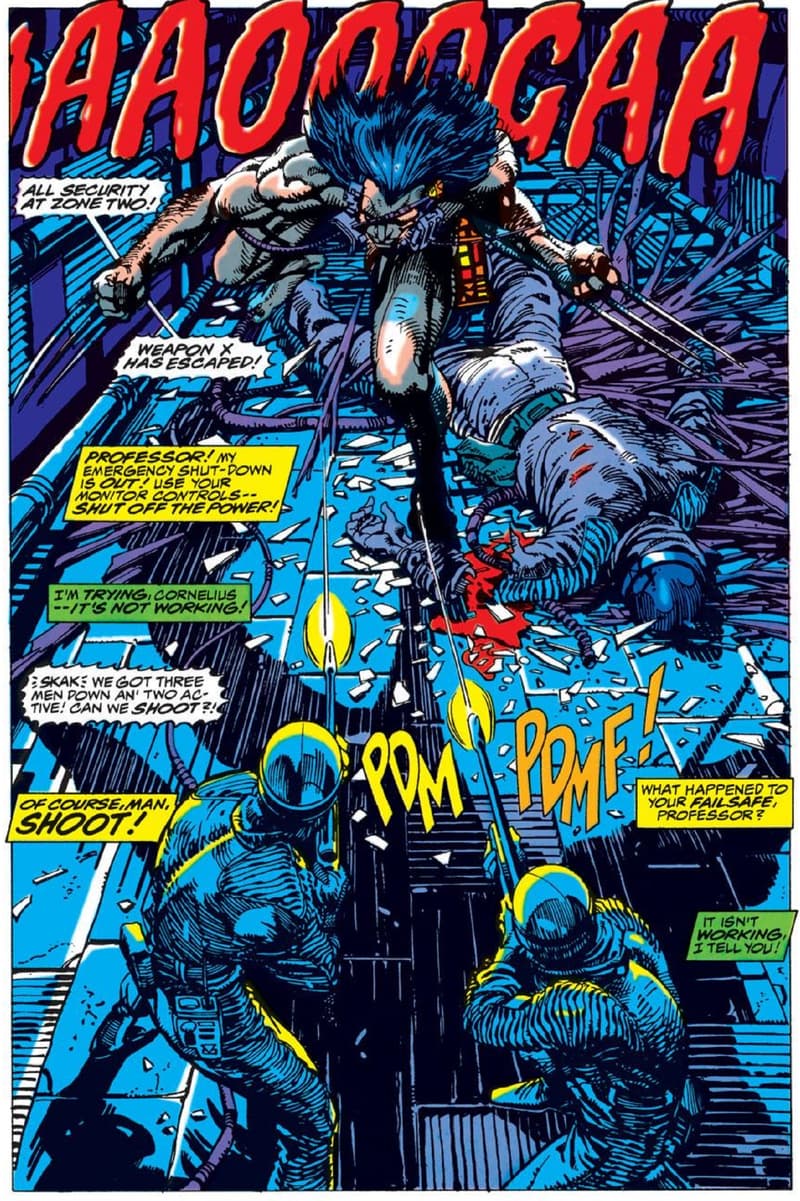 WELCOME TO ALPHA FLIGHT
It's unknown how long Logan was trekking through the wild, but after a tussle with the Wendigo his path crosses with a newlywed couple, James and Heather Hudson. (Frederick Hudson of the Hudson Bay Company, Truett Hudson of Department K, and James Hudson of Department H… Coincidence? With Romulus involved? Probably not.) This "chance" meeting is mentioned but is expanded upon in graphic novel WOLVERINE: SEASON ONE (2013). Logan is brought to the Hudson's cabin and (re)learns to control the animal within. Under "Project Guardian," he rediscovers meditation and learns the difference between a regular fork and a salad fork. Oh, and he fights James Hudson who he generally distrusts.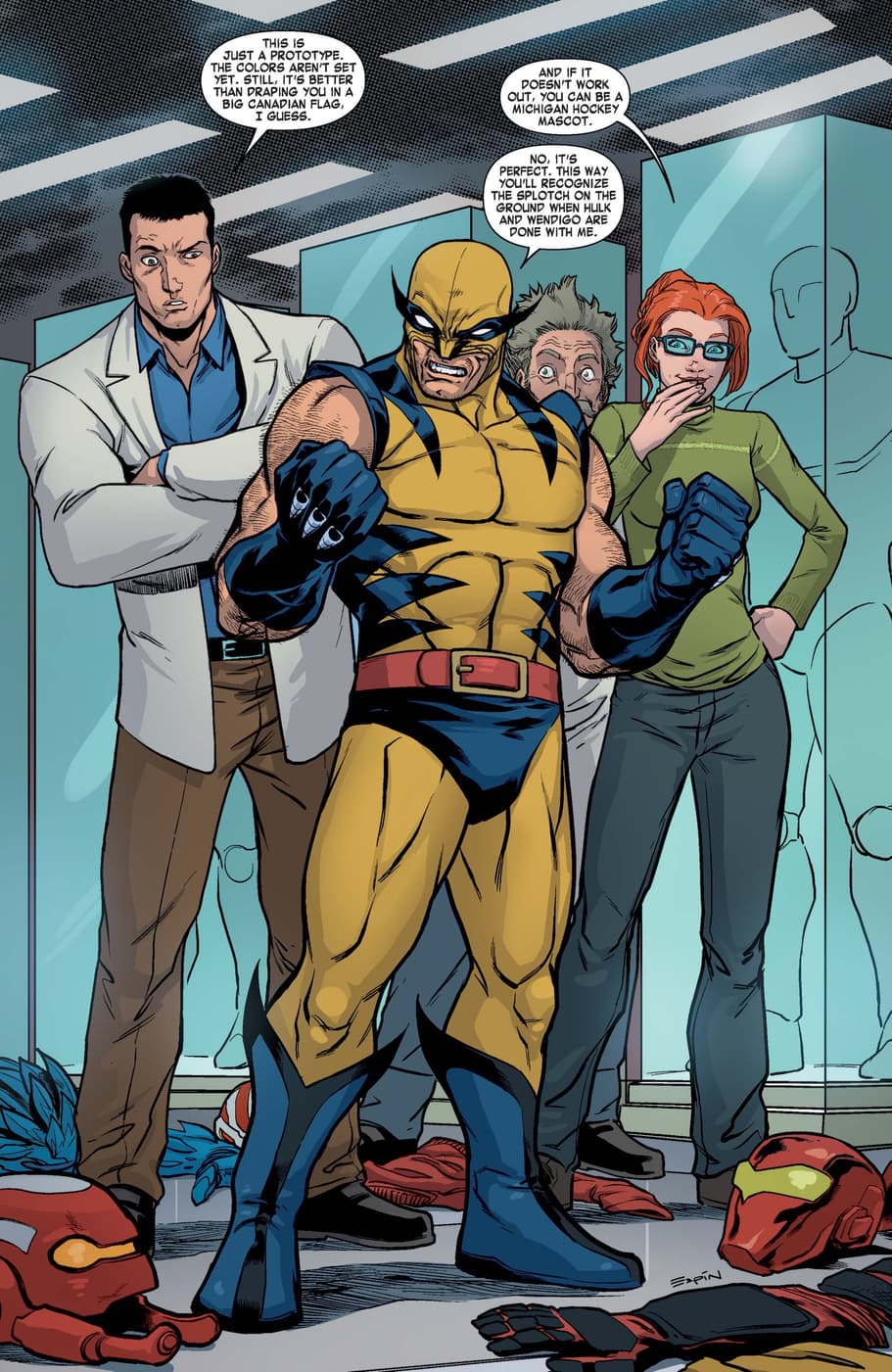 Once proving to Department H that he is capable of field work, Logan is tasked with his first mission: fighting the Hulk. He is asked by James to select a suit of his own, none of which he's really fond of. Logan chooses the prototype of his now-classic costume. In INCREDIBLE HULK (1962) #181, Logan—the Wolverine—jumps between an ongoing battle with the Wendigo and the Hulk. Wolverine fights the Wendigo, which confuses the Hulk into thinking that Wolverine is his friend. Au contraire, Hulk. As soon as the Wendigo is out of the picture, Wolverine strikes the Hulk, and a new battle begins. Quick claws versus giant green fists. In the end, the Hulk wins, adding him to the very short list of people who have bested Wolverine in combat.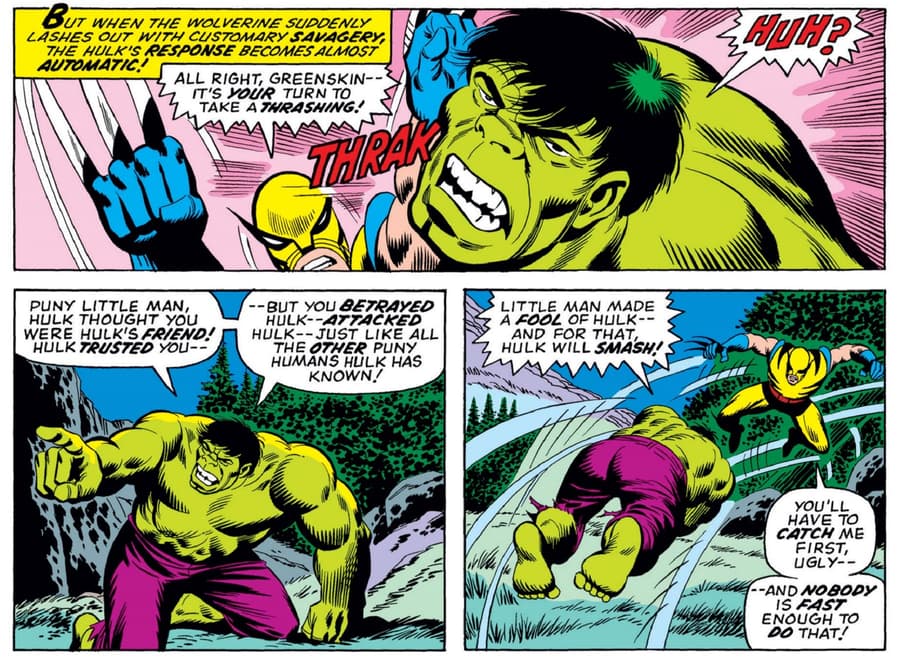 TAKING HIS TALENTS TO THE X-MEN
Not long after his fight with the Hulk, Wolverine receives a visit from "one of the most powerful minds the world has ever seen," Professor Charles Xavier. In GIANT-SIZE X-MEN (1975) #1, he offers Wolverine the opportunity to exit Department H and become a free agent. The offer is appealing, and Wolverine resigns in the most Wolverine way possible: by cutting General Chasen's tie in half with one of his claws. Filing the paperwork would've been too much of a hassle, apparently.
Even though Wolverine is no longer working for Department H, he is, unfortunately, still being manipulated. He and six other mutants—Sunfire, Storm, Colossus, Banshee, Thunderbird, and Nightcrawler—are brought to the X-Mansion and are tasked with rescuing the original X-Men, sans Cyclops, from Krakoa, the Living Island. It's revealed in WOLVERINE ORIGINS (2006) #29 that Wolverine has a secret mission that superseded the one given to him by Professor X, but we'll get back to that later. This new group of X-Men and Cyclops travel to Krakoa and discover the original team in a temple, drained of their energy. Angel tells Cyclops that the reason Cyclops was able to escape was because he was allowed to. Krakoa knew that Cyclops would bring more mutants to save his friends, and more mutants meant more energy for Krakoa to siphon. Basically, it's a trap, and Cyclops was played like a fiddle. But with a little bit of teamwork, the combined X-Men are able to defeat Krakoa.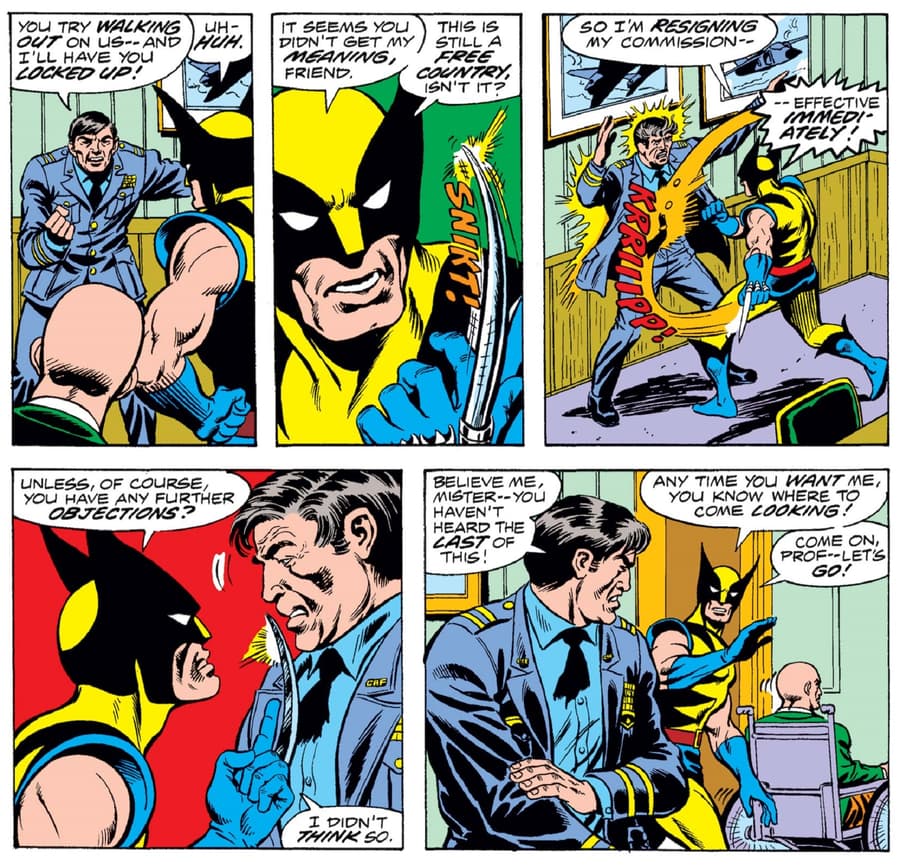 After the mission, as seen in CLASSIC X-MEN (1986) #1, Wolverine introduces himself to Jean Grey, stating that "what Wolverine wants, he gets." Not subtle at all, but that isn't exactly a skill of his. Jean is dating Cyclops, but in that moment, she might have some feelings budding but does not act on them.
Remember that secret mission we mentioned earlier? Well, in flashbacks from X-MEN: ORIGINAL SIN (2008) #1, Professor X wanted to speak with Wolverine privately. Not a minute after, Wolverine lunges at him. The mission, implanted into Wolverine's mind by Romulus, is to assassinate Professor X. Who better to do it than the man trained to kill? Professor X knew that Wolverine was sent to end his life and yet acted like it was a normal day. The next time they are alone, in yet another flashback from WOLVERINE ORIGINS (2006) #29, it's way less violent. Prof X tells Wolverine that he was psychically monitoring Wolverine during his fight with the Hulk. He then goes on to admit the real reason why Wolverine was asked to join the X-Men. Wolverine doesn't understand, and Professor X confesses that he needed "a weapon." Et tu, Charles? He tells Wolverine that he can block his programming, but in turn, this will (further) make Wolverine forget who he is. Professor X assures Logan that the only thing that should matter to him is being an X-Man. The end justifies the means, right?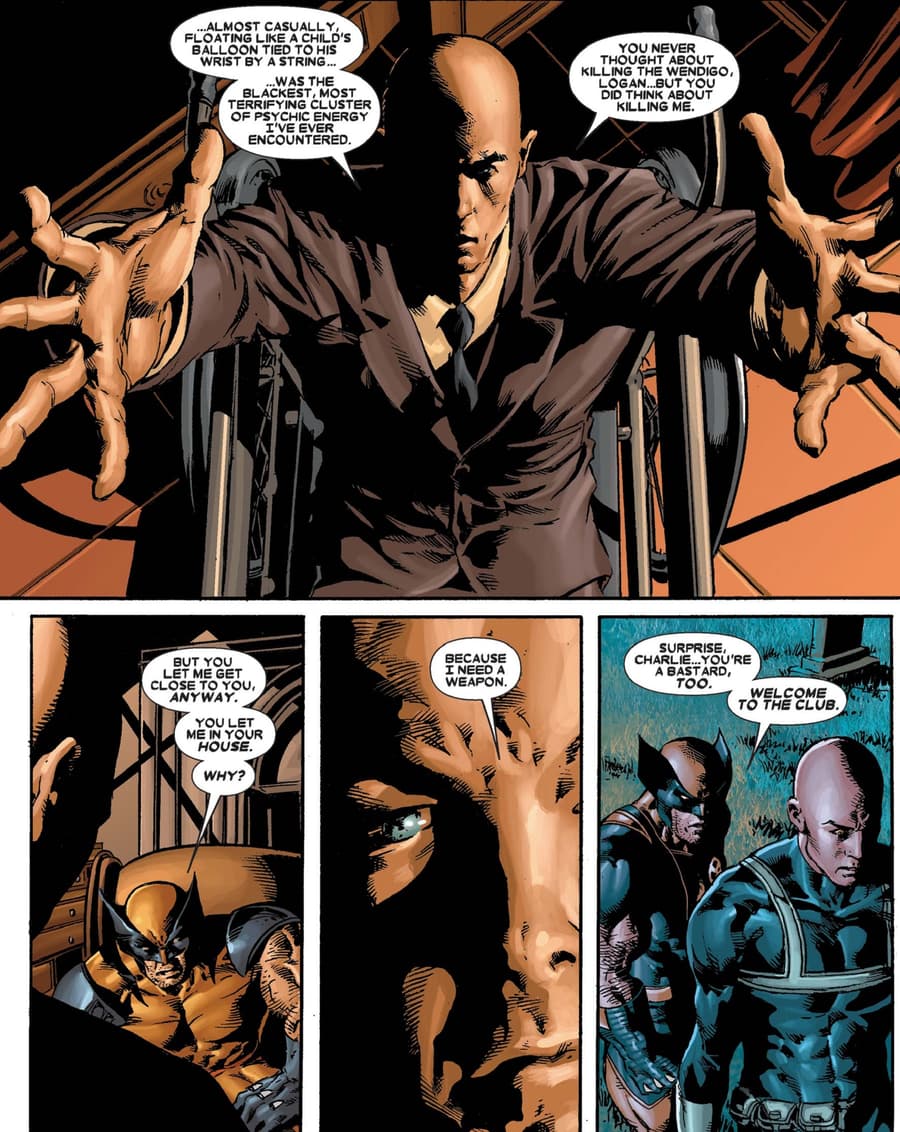 Still prone to raging out, Wolverine strives to do what's right. Being an X-Man is significantly different than previous occupations he's held. For one, Wolverine is saving lives instead of taking them. In Jean Grey's words, he's "a hero" now. With a new job, there are also new enemies. A Sentinel, a colossal robot built to eradicate mutants, learns first-hand how capable Wolverine is in UNCANNY X-MEN (1963) #98. Logan probably didn't expect to be teleported into space to battle the Shi'ar Imperial Guard in UNCANNY X-MEN #107 either. Life as an X-Man is filled with adventures yet is unpredictable.
In between missions in UNCANNY X-MEN #109, Wolverine is hunting. He's minding his business, stalking a deer, when he's interrupted by James Hudson, now under the codename Weapon Alpha. Hudson announces that he is there to bring Wolverine back to Department H, but Wolverine reminds him that he effectively resigned (remember GIANT-SIZE X-MEN #1?). The excuse doesn't stop the two Canadians from getting into a fight, disrupting a picnic being held by the other X-Men. Storm and Banshee fly towards Weapon Alpha, aborting the mission. The X-Men, perilous lifestyle and all, become Wolverine's family. He becomes so close with them that, as shown in UNCANNY X-MEN #110, he joins the team for a game of super-powered baseball. Wolverine! The lone wolf! Playing with other people!
Sometime later, Wolverine and the other X-Men—Cyclops, Storm, Banshee, Nightcrawler, and Colossus—end up on the shores of Agarashima, Japan. Most of the citizens have been evacuated due to natural disasters that occurred in the area. Not having any passports, and with Xavier up in space, the X-Men seek help from their former teammate, Sunfire, to find a way back home. Sunfire wants nothing to do with them, wanting them arrested instead, but thankfully, Misty Knight, one half of the Daughters of the Dragon and Jean Grey's former roommate, offers them sanctuary at the Yashida Manor. While the rest of the X-Men are left to their own devices, Wolverine meets a young woman named Mariko. She's startled by his appearance at first but is very impressed with his fluency in Japanese. Wolverine falls for her.
Sparks fly, figuratively and literally!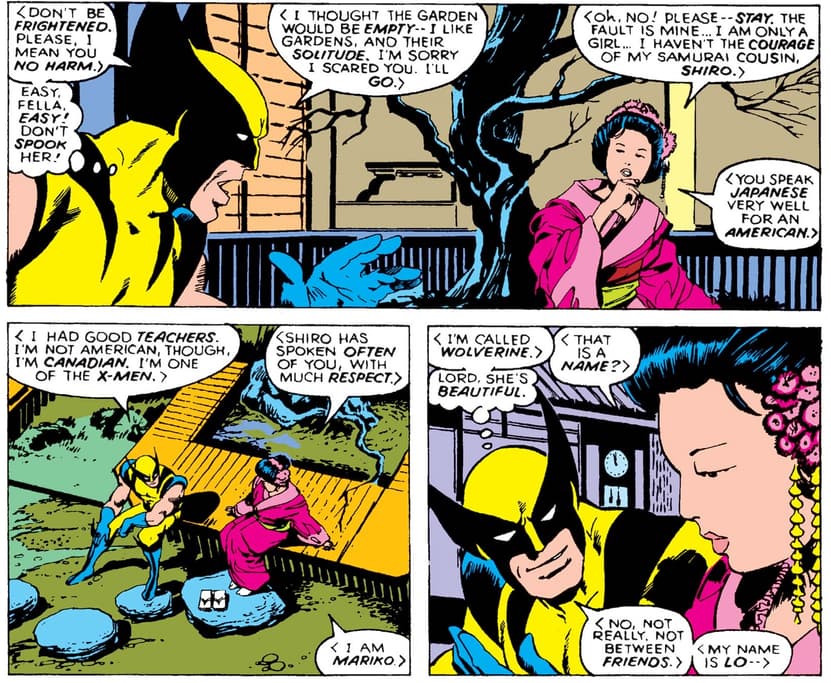 What's next for Logan and his soon-to-be-love Mariko Yashida? Come back to Marvel.com next week for the conclusion to Wolverine's "Complete History." All comics mentioned here, including the LIFE OF WOLVERINE Infinity Comics series, can be read on the Marvel Unlimited app!
Follow Marvel Unlimited on Twitter and Facebook to stay tuned in to weekly announcements, articles, and more, all at @MarvelUnlimited. Follow us today to join the conversation with thousands of fellow fans and let us know what you're reading! 
The Hype Box
Can't-miss news and updates from across the Marvel Universe!