Comics
Published August 1, 2023
SDCC 2023: All the Breaking X-Men News from San Diego Comic-Con
Watch the 'Designing the X-Men: A This Week in Marvel Special Event' panel in full!
Agent M himself, AKA Ryan Penagos (VP & Creative Executive), hosted a can't-miss live edition of the This Week in Marvel podcast at this year's San Diego Comic-Con! Joining him at the Designing the X-Men: A This Week in Marvel Special Event panel were Krakoan Gardeners Jordan D. White (Senior Editor) and Sarah Brunstad (Editor), Marvel Comics Editor-in-Chief C.B. Cebulski, superstar artist Joshua Cassara (X-FORCE, X-MEN), and more surprise guests! Covering logos to data pages, new costumes to Hellfire Gala ensembles, Krakoan topography to the layout of the Green Lagoon, audience members got the inside scoop about the creative process behind the modern era of X-Men comics along with hints of what is to come with the FALL OF X.
In case you missed it, watch the Designing the X-Men panel in full, or grab our highlights below!
ON JOSHUA CASSARA'S INCREDIBLE GREEN LAGOON SPREAD
"It took me a week to draw," revealed Cassara of the incredible double-page spread from X-FORCE (2019) #9. "It was during Christmas. I started on Christmas Eve and ended on New Year's Day."
"Our minds were blown," recalled Senior Editor Jordan D. White on first seeing the art. "We knew it was coming, but I don't think we had any idea it was going to be as cool as it is. And have the great reaction that it did--I know people went absolutely bonkers for it and rightly so."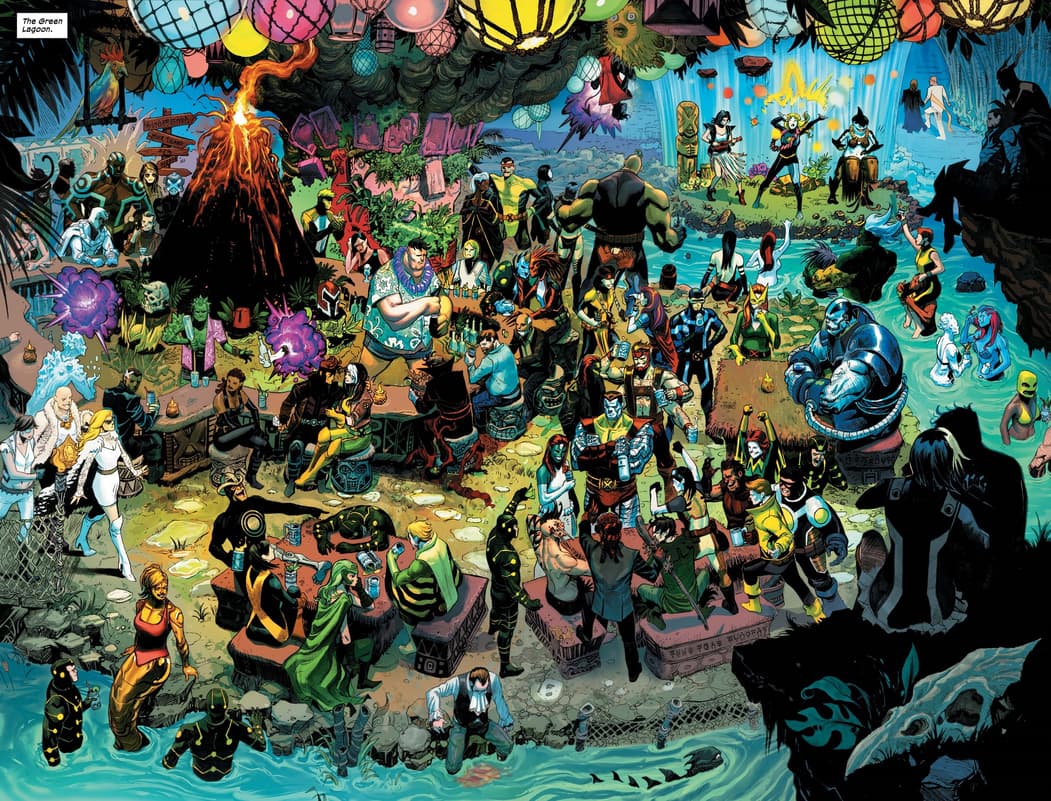 X-MEN BLUE: ORIGINS

WILL REVEAL THE TRUTH BEHIND NIGHTCRAWLER'S BIRTH
Amongst exciting teasers for the X-Men's next era was the announcement of a brand-new one-shot that will shed light on a historic Marvel Comics mystery: X-MEN BLUE: ORIGINS #1! Written by mind-bending X-Men scribe Si Spurrier and drawn by acclaimed artist Wilton Santos, X-MEN BLUE: ORIGINS #1 will at long last provide the definitive origin story for Nightcrawler!
"I've been working with Si Spurrier for a long time, and he's been telling Nightcrawler's story since LEGION OF X and WAY OF X even before that," said Editor Sarah Brunstad. "So now we're doing UNCANNY SPIDER-MAN coming up, and [X-MEN BLUE: ORIGINS] is going to be very closely tied to that. It's going to be a really important story [that's] going to redefine Nightcrawler's origin; it's going to have a lot of Mystique in it and a lot of Destiny. It's an unmissable issue."
Check out Francis Manapul's cover now and don't miss this collector's item in the making when X-MEN BLUE: ORIGINS #1 hits stands in November!
Mutants have invaded San Diego Comic-Con! During the panel, Ryan revealed an exclusive first look at a special X-Men '97 Bishop figure from Hasbro's Marvel Legends line. Check out more of your favorite X-Men (and also Deadpool) from the full Hasbro fleet!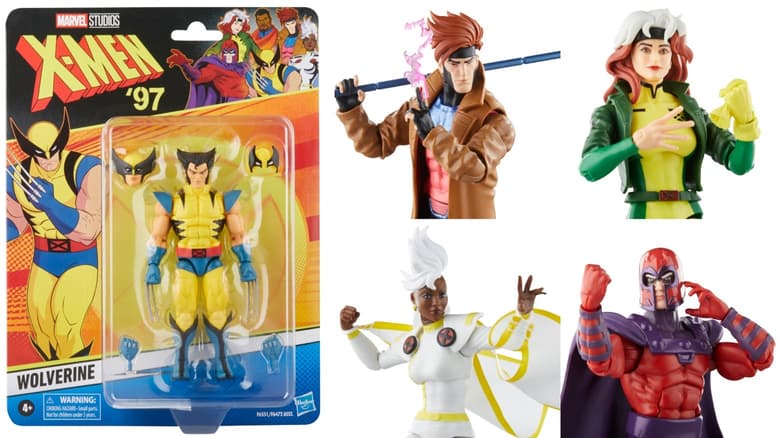 Fans of X-Men: The Animated Series rejoice. During the panel, audience members were surprised by guests from upcoming animated show Marvel Studios' X-Men '97, coming soon to Disney+! Joining the panel were executive producer Beau DeMayo, supervising producer Jake Castorena, and Larry Houston, director and producer of the original X-Men: The Animated Series. Sharing exclusive details about the show—including a never-before-seen clip from its first episode—we heard more behind-the-scenes info than ever about its story and production.
"We just put together kind of an internal thing for the [Marvel and Disney executives], actually giving them a taste of what the show is," revealed Beau. "And it's weird watching your heroes freak out to something you're doing. The size and scope of something like this and sending a love letter to what Larry and [X-Men: The Animated Series creators Eric and Julia Lewald] did is huge."
Larry Houston also assured fans that X-Men '97 picks up the torch from the original series. "You have an entire crew working on this show that are all dedicated fans to the mythology and the lore and legacy of the X-Men. And everyone who's involved really believes in the story and the characters. I think you guys are going to really enjoy it when it comes on the air."
The Hype Box
Can't-miss news and updates from across the Marvel Universe!