Comics
Published February 14, 2020
Which X-Couples Are Now Just Exes?
We break out the heart rate monitor for allll the mutant matches and shakeups coming out of 'Dawn of X.'
Hey Marvel Insiders – did you know reading this article could earn you 250 points?  All you need to do is sign in or join now before you keep reading!
A new mutant landscape has been built from the ground up on the island nation of Krakoa, and along with mutant sovereignty comes a freer approach to the rules of romance that have often applied to humans.
An inside source tells us that the Quiet Council, Krakoa's governing body, has said that to "Make More Mutants" is the nation's #1 edict… meaning that all of the island's utopian Habitats are abuzz with burning love energy, underscored by the mutants' actual law to produce new life… (and not just the kind that's grown in Arbor Magna).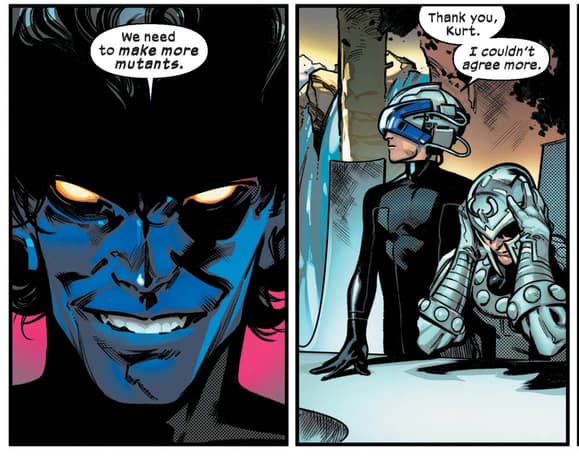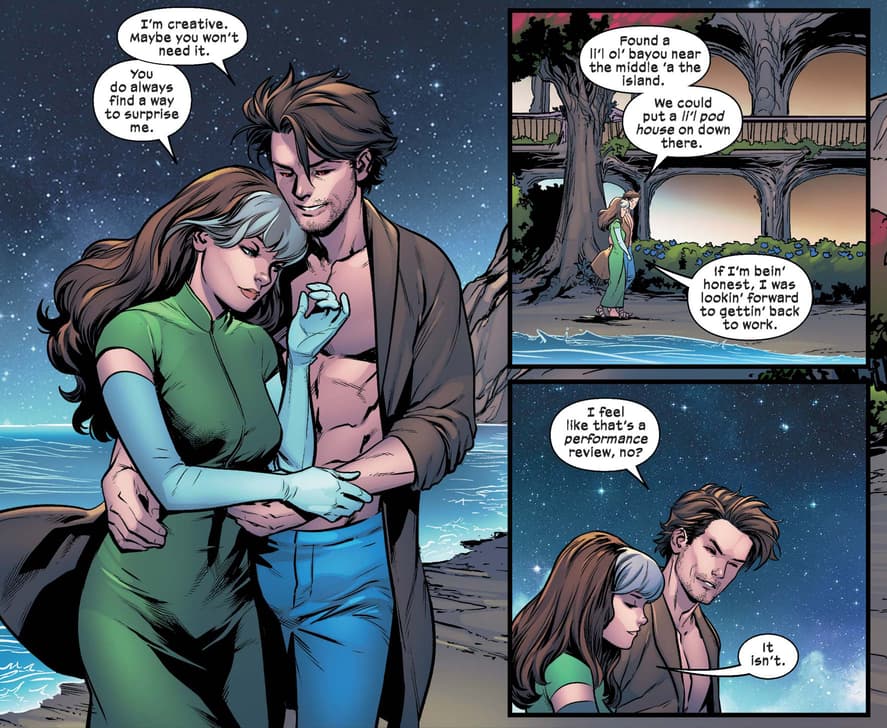 These two set the standard.
Reports tell us that happily married couple Rogue and Gambit are looking to take up their own digs on the island, but that they've been spread a little thin aiding Captain Britain: Betsy Braddock as members of EXCALIBUR. When not working though, they're enjoying each other's company as best friends and partners.
But with orders on high to create life, will we be hearing the pitter patter of little feet soon?
Don't count on it. Our paparazzi snaps from the pages of EXACALIBUR #6 show us that while Rogue isn't ready to take the plunge of parenthood, she is ready to take a plunge with hubby…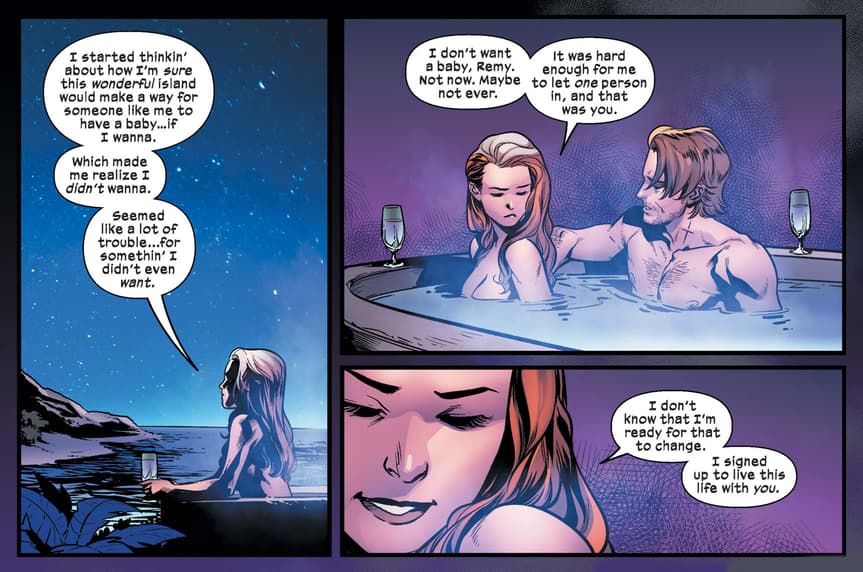 Sources from the X-MEN tell us that this private duo is doing marriage their way, far away from prying eyes and opinions on the Blue Area of the Moon. An insider from Bar Sinister confirms that their lunar compound is called the Summer House, and that Jean Grey and Scott Summers have been living there with alternate timeline kiddos Cable and Prestige, along with Scott's brothers Havok and Vulcan.
Our same Bar Sinister source has also seen Wolverine frequenting this Habitat, and at press time we can confirm that Logan's living there too.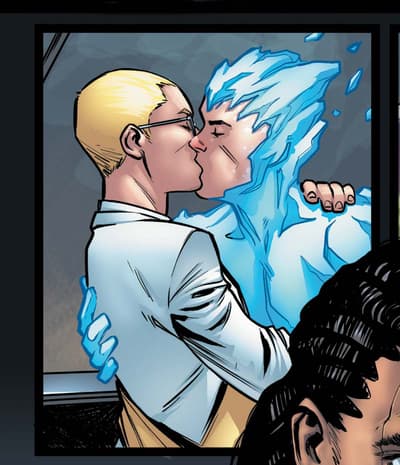 New couple alert!
Photogs caught Bobby Drake, AKA Iceman, offshore canoodling with Christian Frost, the impossibly stylish brother of Emma Frost, White Queen of Hellfire Bay. Newly appointed as the White Bishop of the Hellfire Trading Company, Christian has a whole host of responsibilities under his sister's employ, including the fair and equitable smuggling/trading of the Flowers of Krakoa.
But, there's still room for fun. When he's not onboard Kate Pryde's The Marauder, Bobby has been spotted cozying up to Frost on the White Queen's private vessel, The Mercury.
Our source tells us that despite Drake's icy ways, this couple is far from on the rocks.
TAKING SPACE: CANNONBALL AND SMASHER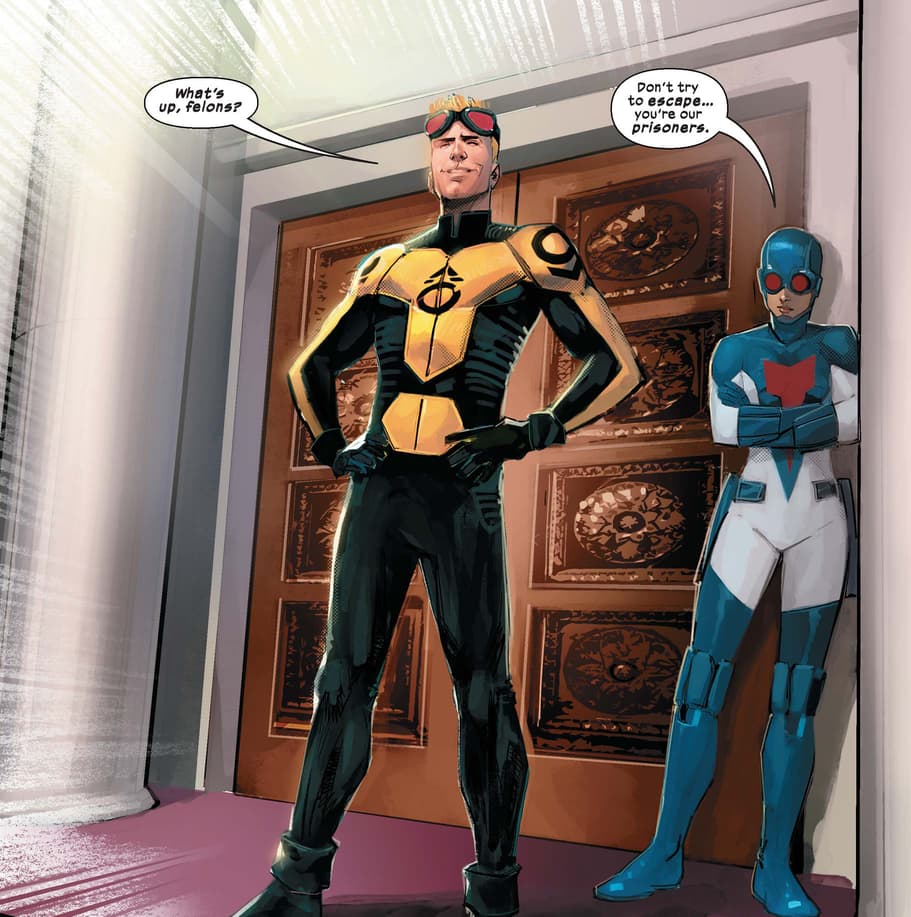 Former New Mutant Sam Guthrie has been keeping major distance from the Akademos Habitat on Krakoa, namely since he has so many responsibilities keeping cosmic order alongside Superguardian wife, Smasher.
As covered in NEW MUTANTS #2, we saw this power couple pull their friends' fat from the fire following a stint in space jail.
Current residents of Shi'ar home world Chandilar, these parents have their hands full raising a baby, so full-time residence on Krakoa seems unlikely. Although, Cannonball has plenty of family ties to the island, meaning a visit isn't out of the question…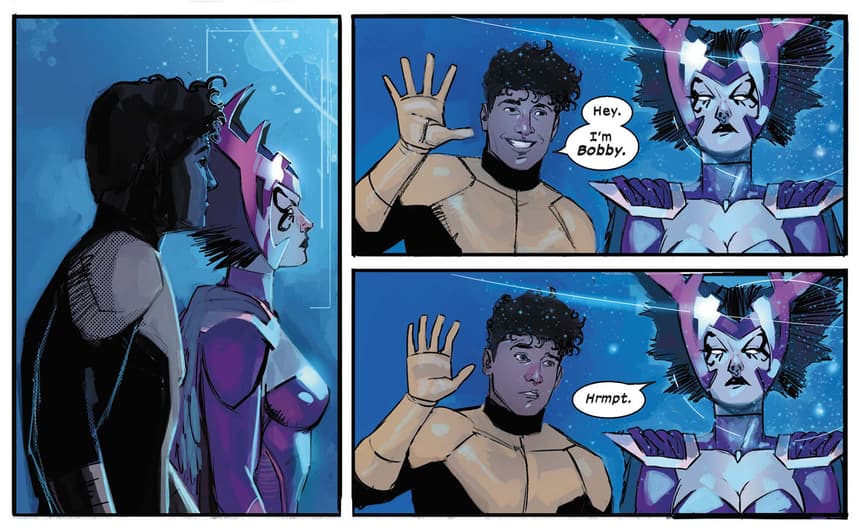 Millionaire playboy Roberto DaCosta managed to get his entire NEW MUTANTS team embroiled in intergalactic Shi'ar drama, and even recently had an audience with Her Grace Cal'syee Neramani of Aerie, AKA Deathbird.
As we've reported, Cal'syee's new role will be to groom her niece Xandra as a future empress, ensuring that the Neramani bloodline thrives on the throne.
Sunspot's totally smitten with her haughty highness, but birds of a feather these two are NOT—we've heard that even Bobby's New Mutant teammates can't flare down his flirting.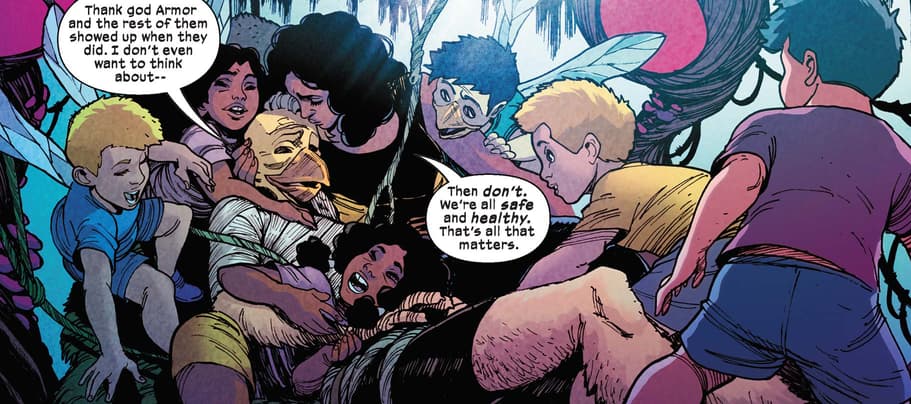 A warm Krakoa welcome to Angel Salvadore and Barnell Bohusk!
After some devastating family losses (as reported in the pages of NEW MUTANTS #3-4, #6), this young couple is settling onto island time following Beak's recovery. Reportedly, they're excited to start building a life with their gaggle of 6 kids.
For Angel especially, this move comes as a major relief, although there are lingering questions about what actually happened to her in-laws over in Nebraska…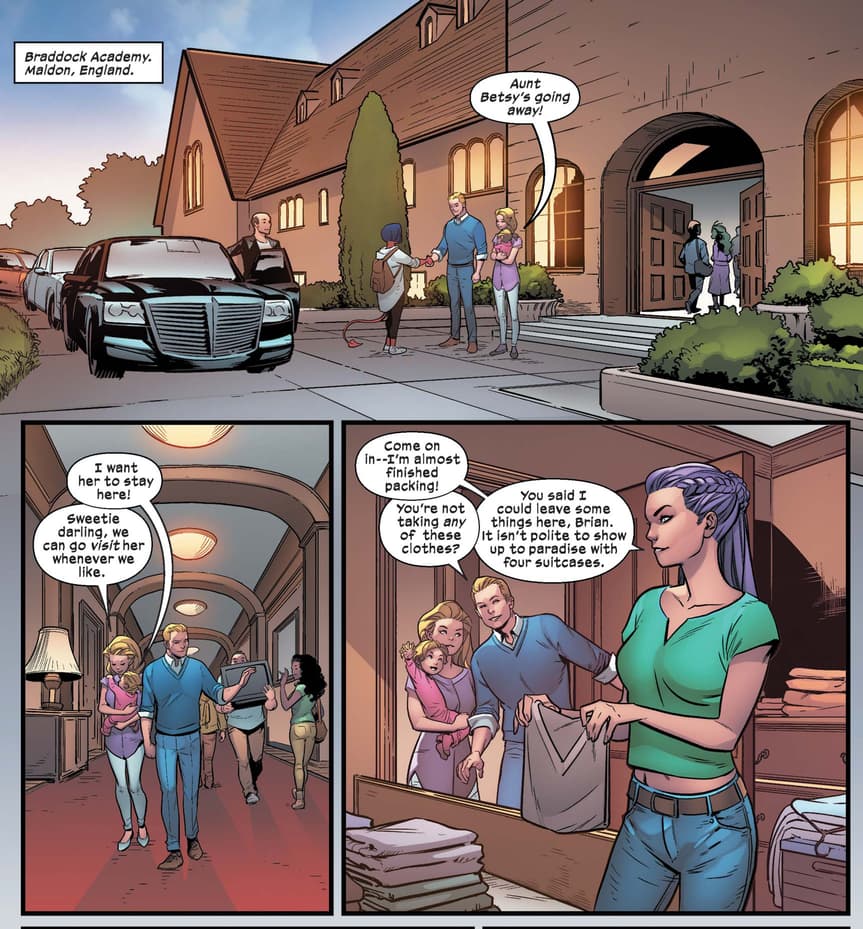 She may be a mutant metamorph, but according to our EXCALIBUR source, Meggan is staying out of Krakoa's "paradise," preferring a simpler life with husband Brian Braddock, and their toddler of genius intellect, Maggie.
We did catch Betsy Braddock, the current Captain Britain, visiting her brother and sister-in-law at the Braddock Academy in Maldon, England. The couple has been hard at work defending the fae realm of Otherworld, in addition to running a school for superhuman youngsters.
HEARTGLOB: GLOB HERMAN AND PIXIE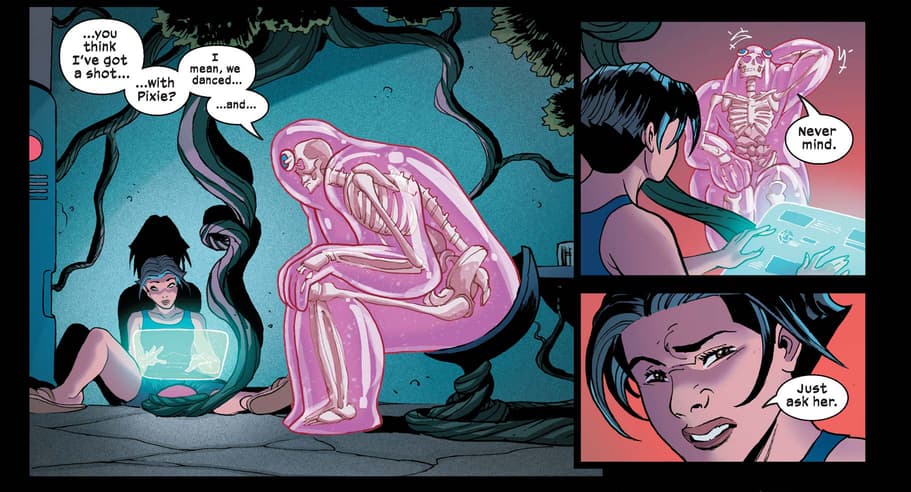 Smells like teen hormones… or is that burning wax?
Akademos inhabitant Glob Herman has reportedly been keeping two googly eyes on his winged dream girl Pixie, the #1 Party Girl of Krakoa's rowdy night scene ( ask Boom Boom). We know Glob's interested in things taking flight… but could this relationship be grounded before it takes off?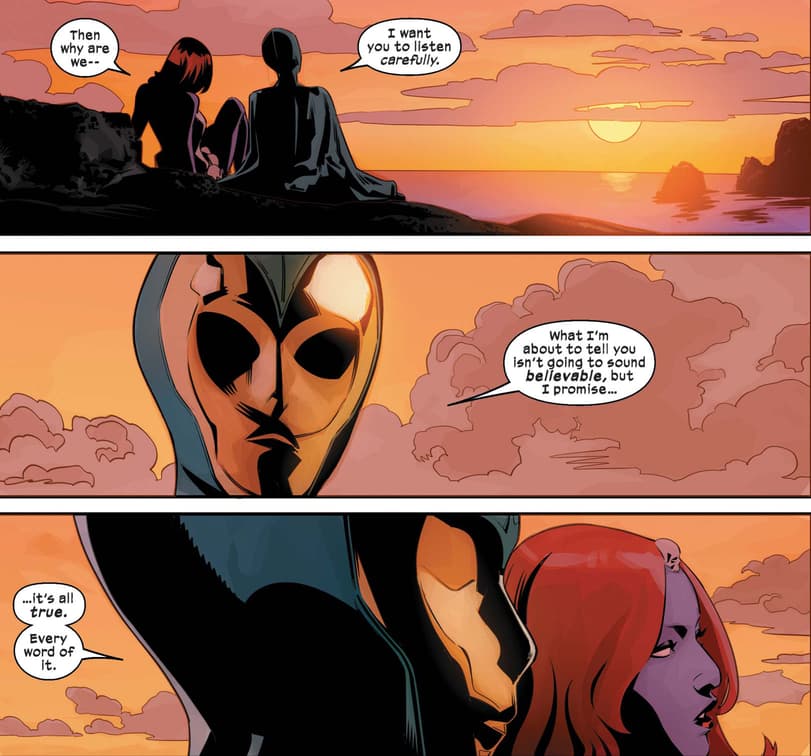 Inside information from X-MEN #6 tells us that shapeshifter Mystique will do anything to be reunited with her wife Destiny, who, at press time, has yet to be resurrected by The Five. We'll keep you posted on this front.
Want more hot goss from the 'Dawn of X'? Pick up the latest issues from the X-Men line-up in digital or print at your local comic shop, or keep reading the HOUSE OF X/POWERS OF X saga in Marvel Unlimited today. Join the conversation with @MarvelUnlimited, and stay tuned to our Twitter and Facebook channels for more weekly announcements and updates.
The Hype Box
Can't-miss news and updates from across the Marvel Universe!