Comics
Published March 17, 2022
The Future of Spider-Man
Read up on the new comic stories spinning out of Spider-Man's 60th year, including brand-new Infinity Comics series 'Spider-Verse Unlimited.'
The future of Spider-Man is... Beyond Amazing!
As announced last night during Marvel Unlimited's live virtual event BEYOND AMAZING: CELEBRATING 60 YEARS OF SPIDER-MAN, the Amazing Wall-Crawler has a packed year ahead! As audience members tuned in to commemorate Spider-Man's 60th Anniversary, host Lorraine Cink rounded out the evening by speaking to Spider-Man Executive Editor Nick Lowe and Marvel Editor-in-Chief C.B. Cebulski. Viewers snagged exclusive details on what's right around the corner in Spider-Man comics, plus upcoming milestones from his 60th Anniversary year. The event also featured behind-the-scenes interviews with historic Spider-Man creators like J.M. DeMatteis, John Romita Jr., Joe Quesada, Humberto Ramos, Karla Pacheco, and Dan Slott, plus a surprise Infinity Comics series drop, SPIDER-VERSE UNLIMITED. This vertical series designed for phone and tablet can be read exclusively on the Marvel Unlimited app and will feature a wide range of Spider-Heroes from Peter Parker, Miles Morales, to Ghost-Spider: Gwen Stacy. And, this six-part series is only the tip of the iceberg when it comes to the expanding Spider-Verse ahead in Marvel's vertical comics lineup.
Marvel.com grabbed all the details from BEYOND AMAZING: CELEBRATING 60 YEARS OF SPIDER-MAN. To get exclusive invites to virtual events like this one, join Marvel Unlimited Annual Plus. A membership gets you instant access to 29,000+ comics, members-only discounts, plus a one-of-a-kind collector's kit.
SPIDER-VERSE UNLIMITED INFINITY COMIC
Every Spider has a story, and this is where they'll be told.
Brand-new to the Marvel Unlimited app, SPIDER-VERSE UNLIMITED INFINITY COMIC will relive the story of what makes Spider-Man "Spider-Man"... on Earth-616 and beyond! We're all familiar with the tale: Peter Parker got bitten by a radioactive spider and gained the incredible abilities of the super-heroic Spider-Man. But this origin is not unique to one corner of the Multiverse—there's a whole wide web of Spider-Heroes ready to break out and make their mark!
While the first issue of SPIDER-VERSE UNLIMITED stars Peter Parker, readers can expect a Miles Morales-centric arc kicking off in issue #2. The Brooklyn-based Web-Head will take on the smartest, most savvy, and dangerous villain group ever. Good thing guest-stars Peter Parker and Gwen Stacy are on deck to land a hand.
The series kicks off with the creative team of Anthony Piper, Bruno Oliveira, and Pete Pantazis on issue #1, and will feature a new creative slate for issues #2-6. Fresh issues of the 6-part series will be available every other Tuesday on the Marvel Unlimited app.
Ahead of the character's 60th anniversary, THE AMAZING SPIDER-MAN #1 will launch Peter Parker into a new era—by starting him out at rock bottom.
"I'm the luckiest editor in the world because I have Zeb Wells and John Romita Jr. in next month's AMAZING SPIDER-MAN #1," teased Nick Lowe of the flagship series hitting comic shelves April 6. "Expect Peter Parker pushed to the limit, giant reveals, plus the best villains of all time!"
Lowe is not kidding about those villains. THE AMAZING SPIDER-MAN #1 will spin out of the events of THE AMAZING SPIDER-MAN #93, coming off the heels of the cataclysmic "Beyond" arc. And Spidey's rogues' gallery just can't wait to get their hands on him. Doc Ock is in hot pursuit, while Tombstone has some nefarious plans in the works—and they aren't the only ones gunning for him. In fact, according to the new trailer for the upcoming issue, all Spidey's enemies can taste the blood in the water, and that includes Mr. Negative, Madame Masque, and so many more. The Avengers don't want him. He's not on good terms with the Fantastic Four. Even his beloved Aunt May doesn't want to see him! What did Spider-Man do to deserve this from his closest friends and allies? To find out, pick up THE AMAZING SPIDER-MAN #1 when it goes on sale next month.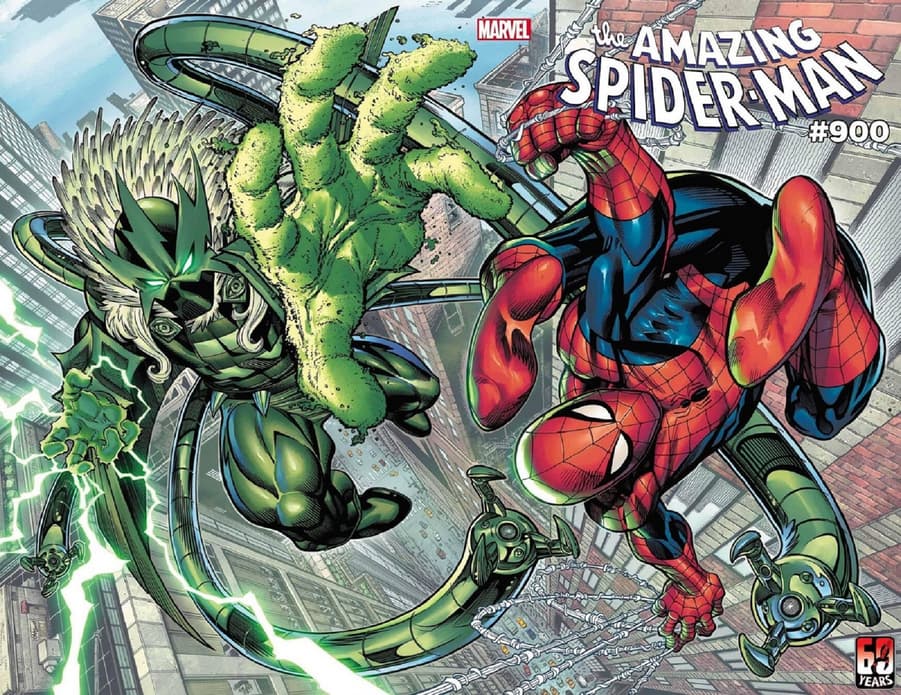 "Didn't we just have an issue #800!?," mused Cebulski.
Because Spider-Man readers can expect non-stop action, AMAZING SPIDER-MAN #900, the sixth issue from Wells' upcoming series, promises a giant-sized epic that sets the tone for Peter's future.
"This falls perfectly in line with Spider-Man's 60th Anniversary month. Plus, Wells is joined by living legend Ed McGuinness," Lowe revealed during the event. "You're getting a Spidey graphic novel. What is the Sinister Adaptoid? And what does Doc Ock have to do with all this?"
Taking place in the aftermath of the new run's first arc, Peter is still reeling from his brutal battle with Tombstone and now must contend with a terrifying take on the iconic Sinister Six. It'll be one of the biggest adventures in Spider-History and you will not believe the ending.
"Zeb and Ed are trying to do the impossible—top Stan Lee and Steve Ditko's AMAZING SPIDER-MAN #1. And that's not the only thing that #900 has—including some shocks that are going to make you say 'What were they thinking?!?!'," teased Lowe.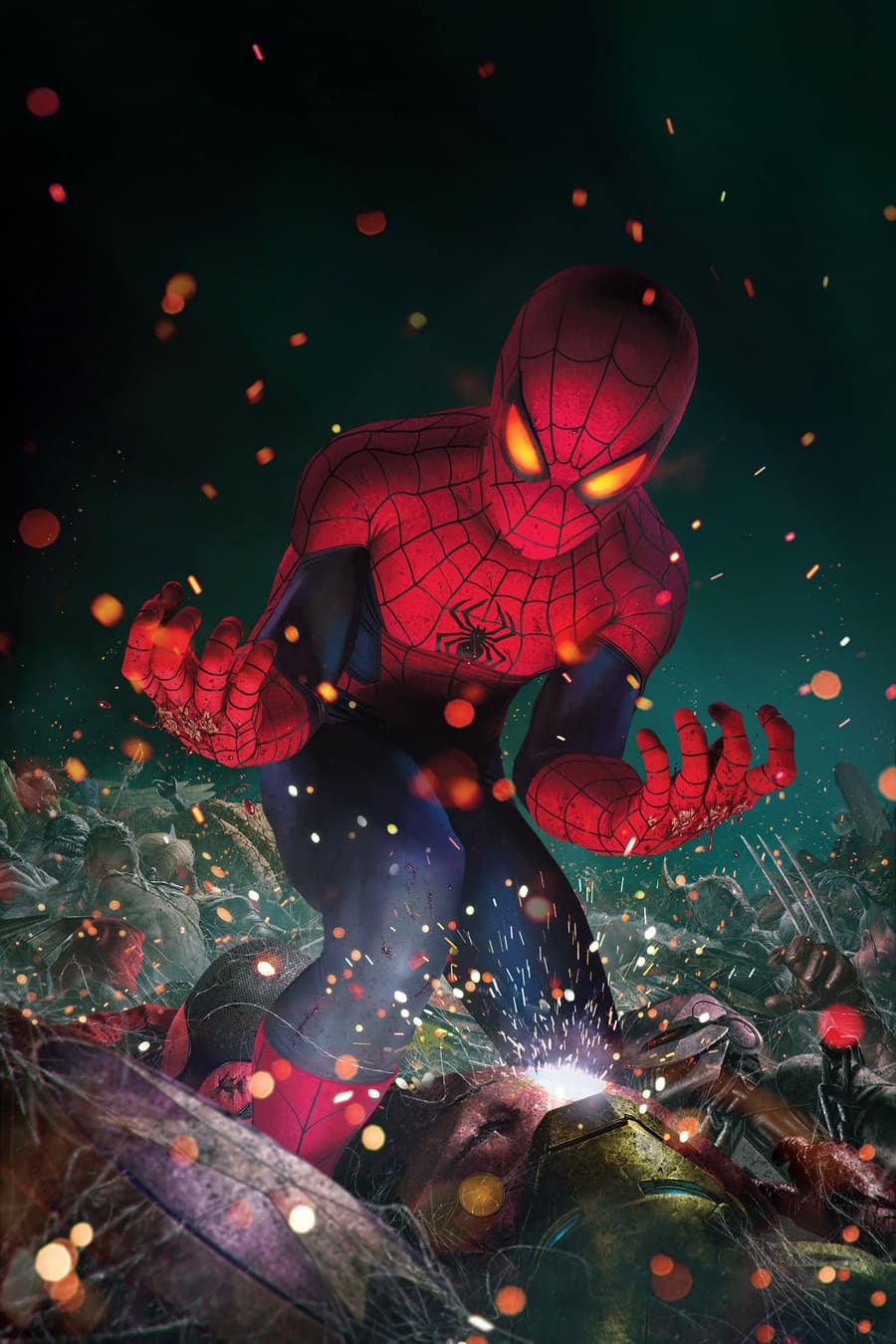 "This one is extremely special to me," said Cebulski of the upcoming series hitting comic shops later this year. "I love the creative team of DEADLY NEIGHBORHOOD SPIDER-MAN. It's also going to star the Demon Bear from New Mutants continuity. As great a combo as peanut butter and chocolate!"
Lowe echoed Cebulski's excitement: "We have writers Taboo and B. Earl, plus artist Juan Ferreyra that Marvel Unlimited readers will recognize from his work on SPINE-TINGLING SPIDER-MAN." Ferreyra's edge in the horror genre is perfectly suited for this demonic tale that takes Peter Parker far away from his friendly neighborhood. "It is a freaky book," teased Lowe.
"Being the first Indigenous writer to co-write this new Spider-Man comic with my brother B. Earl is a huge step in opening more doors for underrepresented talent to shape universally known comic characters," Taboo said in a SYFY WIRE exclusive. "As a lifelong fan of everything Spider-Man, this is a childhood dream come true."
The five-issue limited series will plunge Peter Parker into the underworld of Los Angeles, where he'll find that the City of Angels isn't looking very angelic. Demons are stalking the streets, and the darkness he finds on the West Coast is set to test Peter in ways he's never encountered before.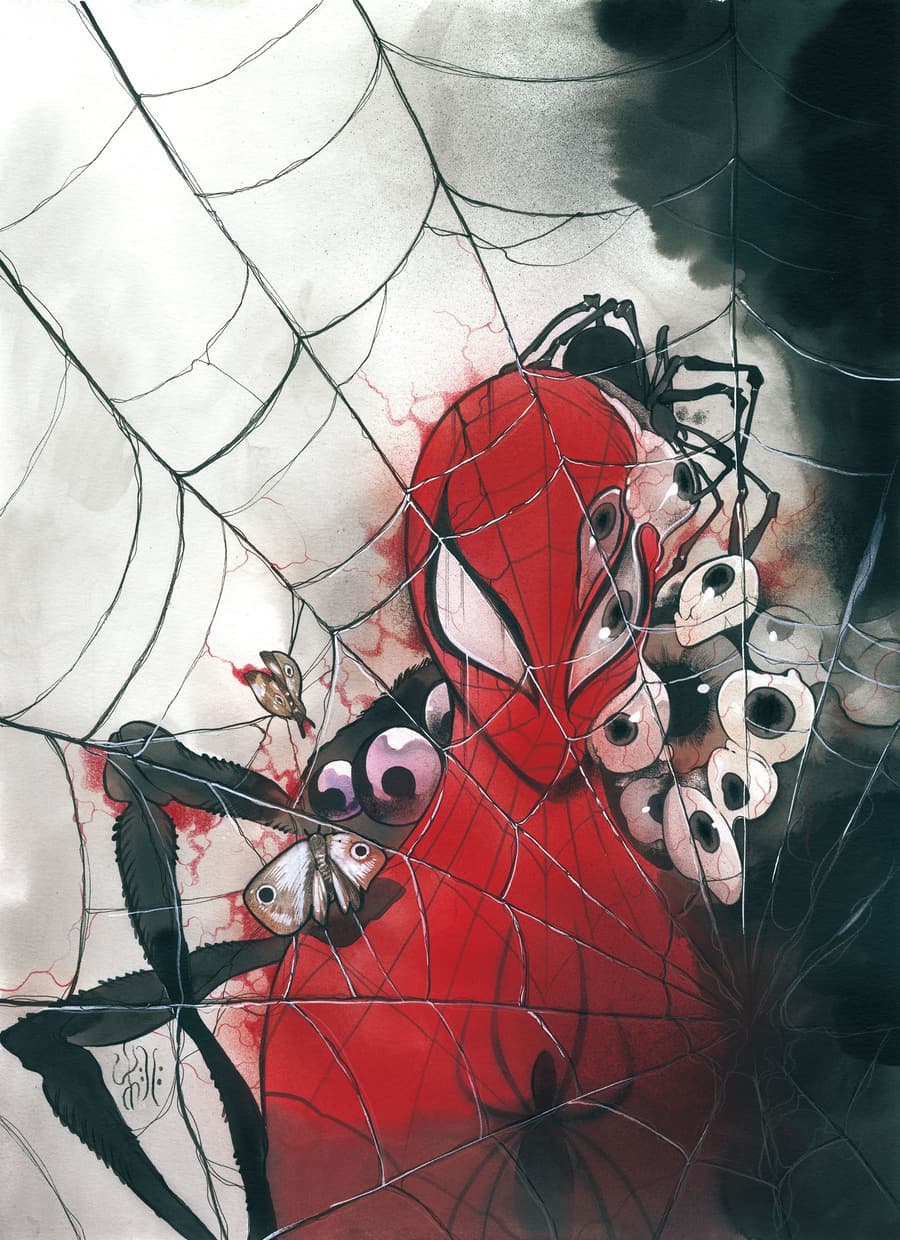 Stay tuned on Marvel.com or follow #SpideyBeyondAmazing for more amazing news surrounding Spider-Man's 60th Anniversary!  
Follow Marvel Unlimited on Twitter and Facebook to stay tuned in to weekly announcements, articles, and more, all at @MarvelUnlimited. Follow us today to join the conversation with thousands of fellow fans, and let us know what you're reading!
The Hype Box
Can't-miss news and updates from across the Marvel Universe!