Games
Published September 20, 2019
'Marvel Contest of Champions': Summoner Showdown Recap: Week 8
See the next finalist going to New York Comic Con for the ultimate showdown!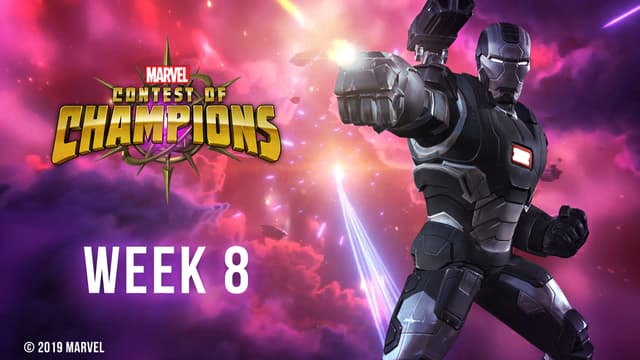 The Marvel Contest of Champions: Summoner Showdown now has just one week left before the finalists head to New York Comic Con! This week marked Week 8 of the nine-week gaming tournament, and three more players got their fight on at Marvel's New York City HQ on Wednesday, September 18. The winner of Week 8 was Yeet, who stayed alive throughout the three-minute fight during this week's War Machine challenge and ended strong! The entire match between Yeet and his two competitors -- BrutalDLX and Turbo Tim -- was broadcast during the weekly livestream. The final livestream will take place next week on Wednesday, September 25 at 3:00 PM ET (note the time change) -- you can watch the action unfold by visiting Marvel.com/mcocshowdown.
This week's challenge: War Machine's Durability Test! In this three-minute survival challenge, the winner will be determined by whoever has the longest survival time. So in this case, the best offense is a good defense! And this week's players will need it going up against Tony Stark's right-hand man James "Rhodey" Rhodes! War Machine boasts +900% health and +90% Armor, so "formidable" would be an understatement. His Active Buffs also include Limber, which means that War Machine will be much harder to stun. The Champions that are up for grabs are the ones who can heal, endure, and defend the best.
Here's how Week 8 went down:

First up was BrutalDLX, who chose Doctor Strange as his champion in hopes of a repeat of the solid performance by Week 6 winner mvinceable. From the top, BrutalDLX did some block damage on War Machine while letting his own power level increase on its own. It was another "keepaway" match between the Sorcerer Supreme and War Machine as both players maintained high health levels throughout the first minute. After taking a few hits, BrutalDLX's SP3 kicked in, but still didn't make much of a dent in Iron Man's friend. The match turned into a bit of a dance between Strange and Rhodey, with BrutalDLX still taking hits as his opponent's health remained near 100 percent. With a minute left, BrutalDLX's health was below the 50 percent mark, and he built up his SP2, which launched multiple hits at War Machine. Now the name of the game was "Regen Your Health." After another SP3, he was able to get his health back into the 60s, ending on 65 percent.
Next up was Yeet, who also went with Doctor Strange against War Machine. Not long after kicking off the match, Yeet built up an SP2 against War Machine, restoring his health back to 100 percent and giving War Machine a wallop. But Rhodey came back to lay down a few hits on Yeet, knocking his health down to the 80s... but for his next trick, his SP3 kicked in, regenerating his health all the way back up to 100, higher than War Machine's 96 percent. After biding his time, Yeet brought out another SP3 and got some hits on War Machine, keeping his own health above his opponent's, with both players in a healthy place with one minute left. Yeet took a couple of hits, but letting his next regen cycle and SP2 build up put him in a new position to strike, and let his health get back to 100 percent. Yeet finished off the three-minute match with a final SP launch and ended the match at 100 percent health, besting War Machine's 91 percent.
The last player was Turbo Tim, and much to Agent M's dismay, he also went with Doctor Strange (and not Diablo). But it was time for more tantalizing trickery with the Sorcerer Supreme, and Turbo Tim was ready to see if he could beat Yeet! He was able to maintain his health and land a few hits against War Machine, then after a minute, employed a Special and regenerated the health points that he lost. But War Machine kept getting in his own hits, keeping Turbo Tim's health level safe, but not as high as he would need. He would have to be very strategic about taking advantage of his regen cycles when they came. After missing an SP2 opportunity, he tried out an SP3 to buy himself some time, but his health was now hovering around 87 percent with a minute left in the match. A few hits later, Turbo Tim misses another SP2 and War Machine gains momentum, knocking Strange down to 72 percent with 22 seconds left -- and the hits kept coming. Turbo Tim ended the match at a health level of 47 percent.
This week's winner: Yeet!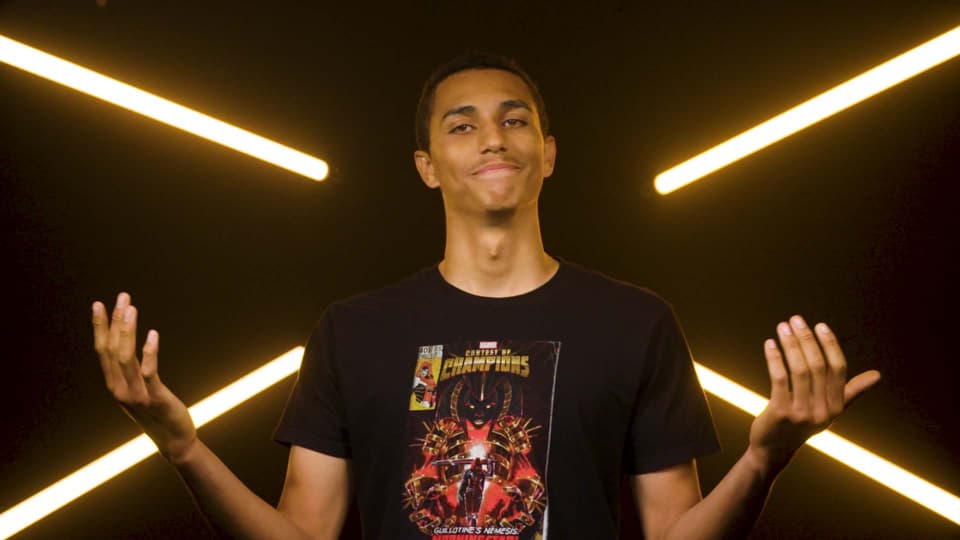 You can watch the whole Week 8 showdown here:
Coming up in Week 9 are these gallant gamers!
Atromix, who's hoping to win this contest as a first step in his grand comeback into the Marvel Contest of Champions community!
Lagacy, who once played for 24 hours straight and streamed the entire thing!
Craftygrinding, who loves Marvel Contest of Champions because it reminds him of the classic fighting games of his youth!
Who will join chunkyb, BigBlue807, DTMelodicMetal, roastedbagel, PandamanPete, mvinceable, Ms.Insomnia, and Yeet at New York Comic Con in October for the ultimate showdown? You'll have to keep tuning in to the final livestream Wednesday, September 25 at 3:00 PM ET! Visit Marvel.com/mcocshowdown to watch the action unfold in the Marvel Contest of Champions: Summoner Showdown!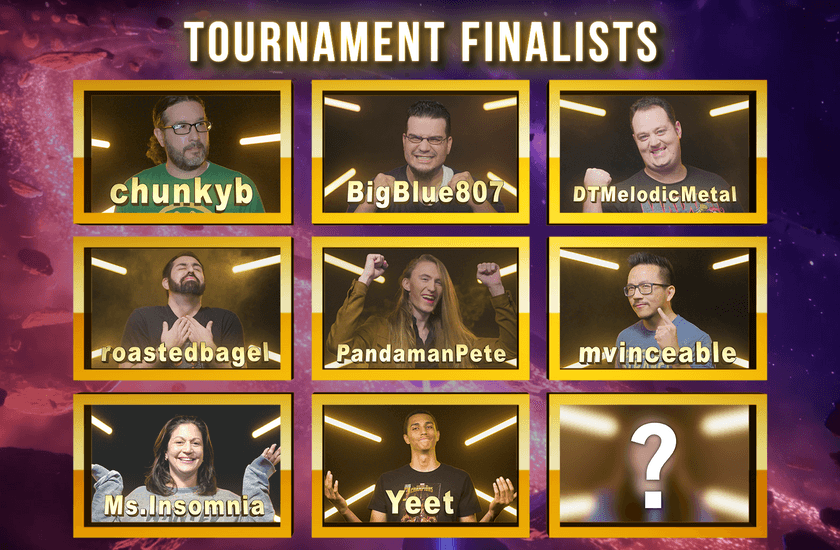 The Hype Box
Can't-miss news and updates from across the Marvel Universe!