TV Shows
Published January 13, 2020
Catch Up on the First 10 'Marvel's Hero Project' Comics
See the young heroes making a difference in the world -- and their Marvel comic origin stories!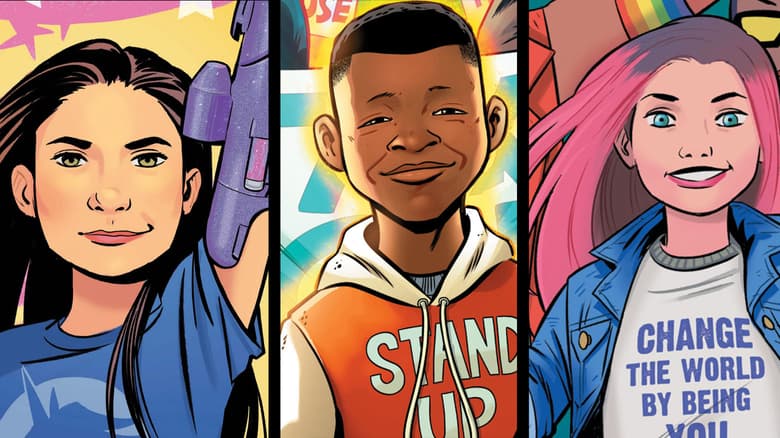 Marvel's Hero Project has been inspiring real-life heroes of all ages since it's debut at the launch of Disney+ in November, and one thing that makes it especially unique is the original Marvel Comics created for every young hero featured on the show! While you can currently stream the first ten episodes of the show exclusively on Disney+, you can also catch up on the comic stories right here and read them all for free!
And what better place to start than the beginning? Here is every Marvel's Hero Project comic released so far, available to read for free:
Sensational Jordan #1
Written by Marc Sumerak with art by Kevin Sharpe (pencils), Wayne Faucher (inks), and Chris Sotomayor (colors)
Inspired by her limb difference, Jordan has honed her skills as a designer and an inventor. A tireless champion for inclusivity in the industrial design community, she is giving the next generation of kids the tools to build a more accessible world.
In SENSATIONAL JORDAN #1, Jordan's comic counterpart stands up for another student named Sara, who also has a limb difference and wants to try out for cheerleading. Jordan's character shows off her own special moves then takes Sara on a trip to her laboratory at Born Just Right Headquarters to prove that being different is a positive – plus it can help other people with different needs!
Incredible Elijah #1
Written by Mike Raicht with art by Mario Del Pennino and Chris Sotomayor (colors)
Elijah's extraordinary empathy is his super power. Speaking out to keep kids safe, he has galvanized children, adults, and those in public service to join him in his rallying cry to protect the most vulnerable members of society.
In INCREDIBLE ELIJAH #1, Elijah's gift for empathy was turned into a super power, giving him the ability to see the "auras" of other people around him and seeing their true emotions, including their sadness. He senses that a classmate of his is feeling sad, and she confesses that she's afraid to go home. Elijah encourages her to talk to someone, and she does.
Unstoppable Adonis #1
Written by Mike Raicht with art by Kevin Sharpe (pencils), Lorenzo Ruggiero (inks), and Lee Duhig (colors)
When Adonis lost his eyesight at age five, he didn't lose his ambition to one day play professional football. Now, as a celebrated running back for his high school team, he has changed the way people see those who are visually impaired, on the field and off.
In UNSTOPPABLE ADONIS #1, Adonis's comic counterpart provides a play-by-play of how he navigates the football field using every sense he has available to him, proving that while he may not be able to see, his other senses become even sharper to pick up on what's happening on the gridiron.
Here Comes Hailey #1
Written by Ralph Macchio with art by Ron Lim (pencils), Scott Hanna (inks), and Guru eFX's Lee Duhig (colors)
When Hailey's grandmother started to suffer from Alzheimer's, Hailey was afraid she would lose the close bond they shared. So Hailey found a way to connect. Through the power of puzzles, Hailey teaches other kids dealing with their loved ones' dementia how to make connections for a strong family.
In HERE COMES HAILEY #1, Hailey's power to connect with others was depicted as a pink aura that started with her and her grandmother and extended to the entire nursing home community. In the story, Hailey and Ruth find their connection through the puzzles. The rest of the kids who are struggling to connect with their family members follow Hailey's example, take on her power of connection, and transform their struggle into a fun bonding experience.
Mighty Rebekah #1
Written by Marc Sumerak with art by Ramon Bachs (pencils and inks) and Chris Sotomayor (colors)
Rebekah is on a mission to shield others from hate, and make the world a safer, more loving place for everyone. Raising awareness for LGBTQ youth and putting herself out there as a role model for other kids has made her a hero. 
In MIGHTY REBEKAH #1, Rebekah helps her fellow kids at an LGBTQ community center recover after the center is vandalized, showing them that they can only become stronger by being themselves.
Make Way For Jahkil #1
Written by Ralph Macchio with art by J. L. Giles (pencils and inks) and Chris Sotomayor (colors)
Jahkil wanted to help the homeless people he noticed in his city, so he started distributing his Blessing Bags full of essential items. As he sets new goals to reach even more people who could use his support, Jahkil never strays from his original goal – to show people, no matter their situation, that they deserve kindness and dignity.
In MAKE WAY FOR JAHKIL #1, the young hero visits several homeless people with his Blessing Bags, striking up conversations with them, and making them realize that they matter, they are cared for, and they deserve respect. Using his super speed, he travels all over to deliver more bags and give inspirational talks to people of all ages who want to help.
Dazzling Lorelei #1
Written by James Asmus with art by Craig Rousseau (pencils and inks) and Ian Herring (colors)
Lorelei was born with half a heart, but really, she is all heart, working tirelessly to make sure other kids like her get the cardiac care they need. With her heart hug pillows, Lorelei has been crafting care packages for other young heart patients around the world. What makes Lorelei a hero is not just her bravery through her illness, but using the power of her love to help others.
DAZZLING LORELEI #1 follows her heroic origin story, from the moments before she was born, to her surgeries and her idea to make smaller pillows for smaller patients, to her making her pillows with super-powered thread and spreading love all over the world.
Battlin' Braden #1
Written by James Asmus with art by Craig Rousseau (pencils and inks) and Andrew Crossley (colors)
Braden considers his hearing aids his superpower: when he puts them in, he feels his world comes alive. But when he learned that not everyone who is hearing impaired can afford hearing aids, he knew he had to help. Made possible through his tireless fundraising efforts, he travels across the world delivering hearing devices, witnessing how lives are transformed when the sound finally comes on.
In BATTLIN' BRADEN #1, he uses his super powered voice to reach the people who needed to listen to him the most: the people who provided his hearing aids, people watching TV who might want to help, all the way to Guatemala.
Radiant Jayera #1
Written Brian Smith with art by Mike Bowden
Jayera is a young woman who has been working to level the playing field for those in her neighborhood who could use support in hard financial times. From fundraising for Free Wash Day to holding pop-up "pay what you can" shops, her community service is a benchmark of humanitarianism in her town.
In RADIANT JAYERA #1, Jayera sees a young boy in a dirty shirt being bullied, but using her super powers, she sees that he can go on to have a wonderful future. More kids approach her, sharing their dreams – Jayera tells them they can be whatever they want since they all have the potential!
Spectacular Sidney #1
Written by Chuck Brown with art by Yvel Guichet (pencils and inks) and Chris Sotomayor (colors)
Sidney fell in love with reading at a young age, but he wasn't finding a lot of stories with characters who resembled him. So, he established his Books-n-Bros club, targeted to young, African-American boys to spread his love of reading and improve literacy skills.
In SPECTACULAR SIDNEY #1, Sidney convinces his skeptical friends to come with him to the bookstore where there are stories they can relate to. From there, the super powered book takes all of them on all kinds of journeys, proving to them that reading can truly spark their imaginations.
The Hype Box
Can't-miss news and updates from across the Marvel Universe!