Comics
Published March 5, 2020
Humberto Ramos Dives Into the Magical World of 'Strange Academy'
Open a new book of spells with 'Strange Academy' artist, Humberto Ramos!
Hey Marvel Insiders – did you know reading this article could earn you 250 points? All you need to do is sign in or join now before you keep reading!
This week, the Marvel Universe is becoming a much stranger place. Skottie Young and artist Humberto Ramos have launched STRANGE ACADEMY, a new ongoing series that will introduce readers to a new generation of sorcerers. They aren't heroes or villains, they're "something else altogether." Guiding the way are Strange Academy's faculty, including Doctor Voodoo, Zelma Stanton, and Doctor Strange himself!
One day after STRANGE ACADEMY #1 hit comic shops, Ramos told Marvel.com how he and Young came together for this project.
"I adore Skottie Young and I've been chasing him for years to work on a project together," confessed Ramos. "We finally found a middle point where he was looking for an artist and was looking for a new challenge. But again, and most importantly, I wanted to work with him, badly."
During our previous chat with Young, he cited GENERATION X (1994) as one of STRANGE ACADEMY's primary influences. Ramos also acknowledged that classic series while speaking with us.
"I think the inspiration came from the need to explore a whole new part of the the Marvel Universe, and to create new characters that will hopefully inspire a new generation," noted Ramos. "I'm looking for inspiration [from] GENERATION X and DOCTOR STRANGE. Isn't it a cool thing that both comics were drawn by the same artist? Chris Bachalo rules!"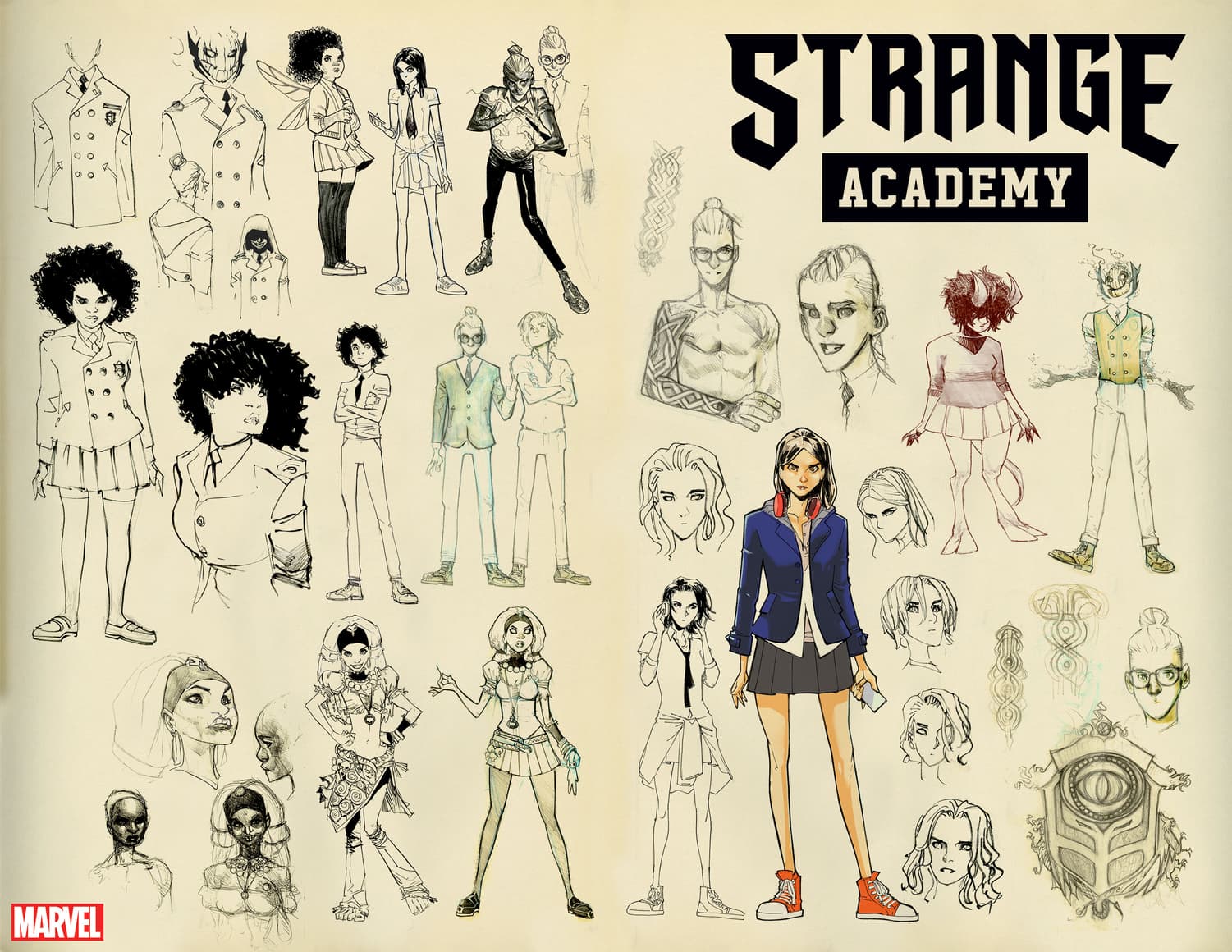 Ramos and Young fleshed out the new generation of sorcerers together, which Ramos found to be a very rewarding experience.
"I've been a comic book artist for almost 30 years now, but this is the first [time] I have had such a close and cooperative dynamic with my writer," said Ramos. "Skottie, being an artist himself, has detailed ideas [about] how the kids should look, and that makes that process really exciting."
Two of the new additions, Emily Bright and Doyle Dormammu, rank among Ramos' favorites. But he had some trouble singling them out from the crowd.
"Who's the closest to my heart? Come on, they are all my children," said Ramos with a laugh. "Emily is our leading character and the story flows around her for the time being. But in the magic world, you can't be so sure. Then Doyle... am I allowed to say this? Maybe [keep an eye on] Doyle. Not just because of his looks, but for what being Dormmammu's kid means. It shouldn't be [easy], don't you think?"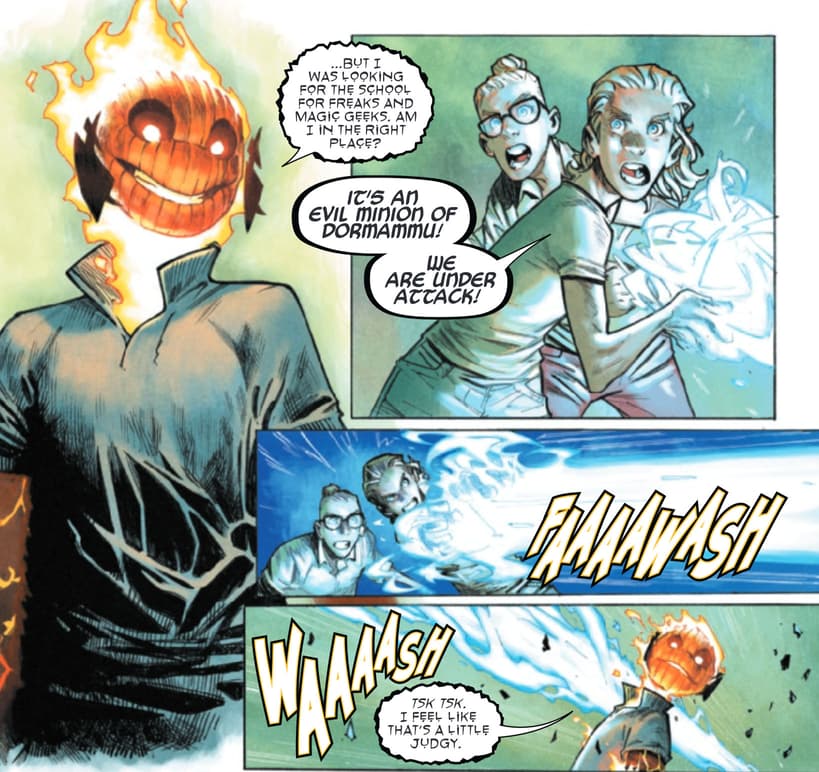 STRANGE ACADEMY is set in New Orleans, and Ramos was quick to say that the city "is not a background, but a character itself." He added that he and Young visited New Orleans for research, "and we are looking forward to doing it again."
Ramos also had a surprising choice for the Strange Academy faculty member that he wants to utilize in this series.
"I would like to explore Nico Minoru a bit more because she's one of the youngest in the faculty side, and closer to the kids' [ages]."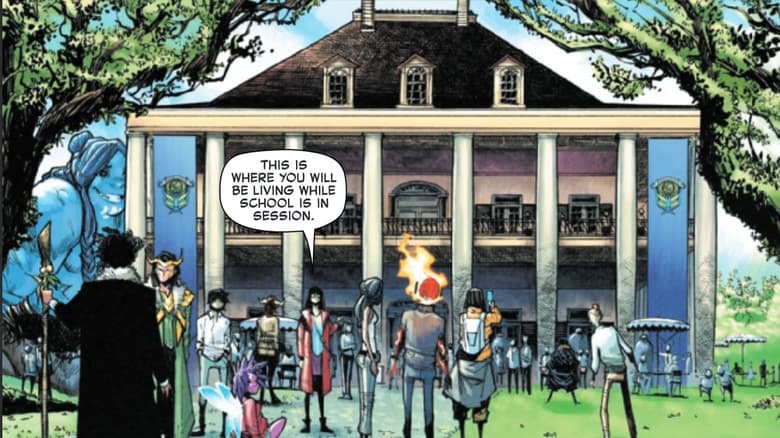 Additionally, Ramos admitted that he couldn't get every Marvel magician he wanted for this series. But he didn't rule out guest appearances.
"I asked about a couple, but I don't want to spoil that right now," related Ramos. "You never know when we'll see guest professors in the school."
He added that "the whole [first issue] is an introduction to this world and most of our cast. So I guess the tour through the school is my favorite sequence." He also offered one more cryptic teaser for the series.
"We will see more of the activities in the school, and why you shouldn't argue with the faculty. I can't say any more. Sorry!"
For even more about STRANGE ACADEMY, tune in this Friday, March 6 for this week's episode of This Week in Marvel when writer and artist Skottie Young stops by for a magical conversation!
STRANGE ACADEMY #1, written by Skottie Young with art by Humberto Ramos, is on sale now! Get your copy today online or at your local comic shop!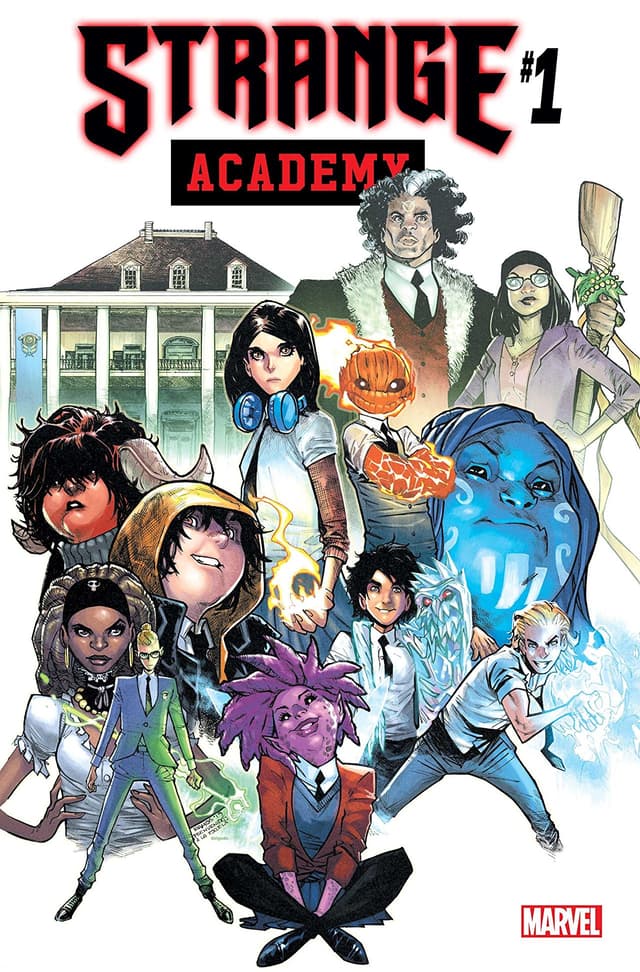 The Hype Box
Can't-miss news and updates from across the Marvel Universe!