Comics
Published August 31, 2021
82 Comics for 82 Years
Celebrate Marvel's birthday with these Marvel Unlimited picks through the ages!
Have you tried Marvel Unlimited yet? It's your all-access pass to over 28,000 Marvel comics, all available at your fingertips. Sign up now to enjoy your favorite stories just three months after they're in stores.
Eighty-two years of Marvel Comics! To celebrate our milestone birthday, we're offering up eighty-two of our most influential issues spanning eight decades. All are available to read on Marvel Unlimited, our digital comics archive that gives you instant access to 28,000+ comics ranging from recent hits to Golden Age firsts.
The Marvel name is born. The four-color comic world is taken by storm in our inaugural issue containing the first appearance of the Sub-Mariner, lord of Atlantis!
Marvel's first comic crossover! Behold! A two-headline collab with the Human Torch and the Sub-Mariner. Fire meets water in an elemental showdown!
A hero clad in red, white, and blue decks Hitler. Legends Joe Simon and Jack Kirby introduce Captain America in this landmark issue.
Stan Lee's first writing gig for Marvel! A career in comics begins!
Co-creators Kirby and Lee bring us into the Silver Age. Rejecting the notion of Super Hero tropes, Lee and Kirby defied expectations with the super-family super-team. Meet the Fantastic Four!
Ant-Man's first appearance! Read on for his team-up with Janet Van Dyne, co-founding Avenger Wasp.
The Sorcerer Supreme, physician-turned-Master of the Mystic Arts, in his debut issue. Spider-Man co-creator Steve Ditko brings Strange to life.
Across eleven pages an introverted kid from Queens grows into the Amazing Spider-Man. By Ditko and Lee!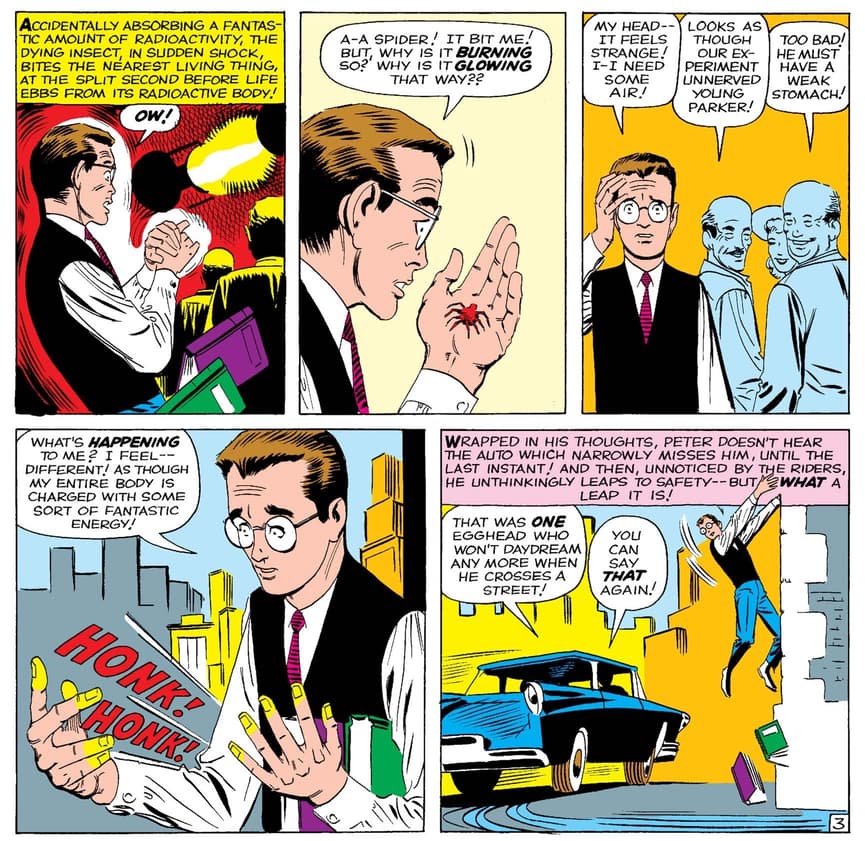 True Believers, meet the God of Thunder! When Dr. Donald Blake struck his wooden cane on the ground, he transformed into Odin's favored son for the very first time.
Although he wouldn't get a solo series until 1968, Iron Man starred in TALES OF SUSPENSE. In a moment of duress, industrialist Tony Stark achieves his full potential to as the Armored Avenger.
The premiere super-team assembles! Brought together by a common enemy in Loki, Thor, Hulk, Iron Man, Wasp, and Ant-Man answer the call.
The legend lives! Captain America stepped out of the ice and into the modern era, helping the Avengers against enemies alien and Atlantean.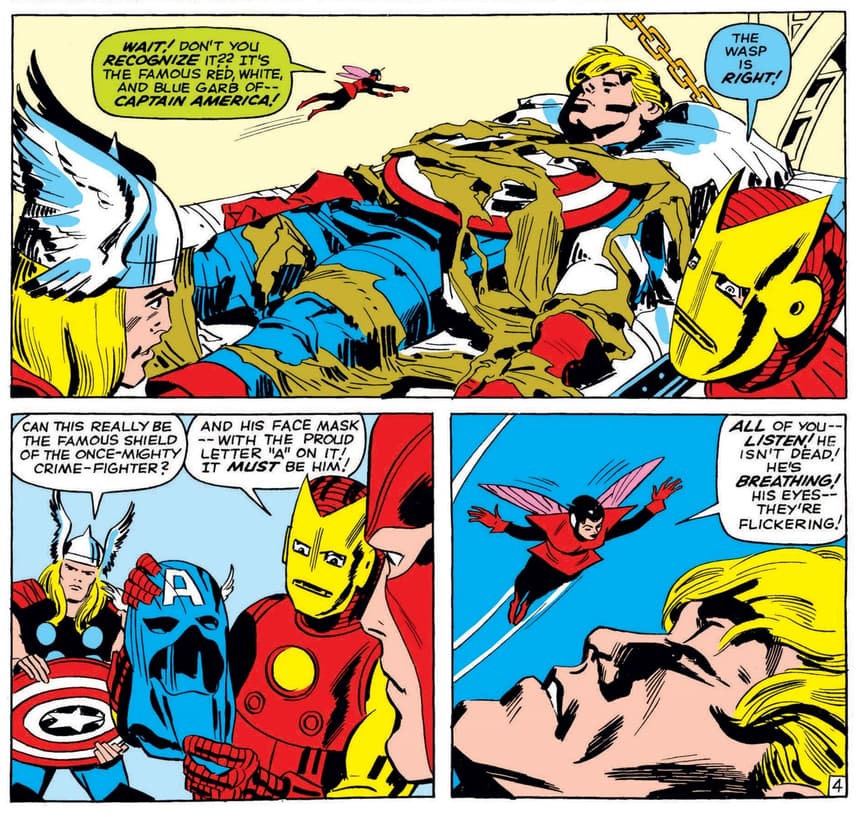 After a childhood accident left him with enhanced senses, Matt Murdock became the Man Without Fear, Defender of Hell's Kitchen!
Often cited as one of Lee and Kirby's greatest collaborations, "The Coming of Galactus" marked a major shift for the Fantastic Four. The team begins to unravel after the arrival of the Watcher, and Silver Surfer's prophecy about Galactus, Devourer of Worlds.
In the technologically advanced nation of Wakanda, the Fantastic Four crossed paths with a noble ruler and righteous hero–King T'Challa, the Black Panther.
Learn how Luke Cage first gained his superhuman invulnerability in this debut issue!
Wolverine snarled onto the scene in this brutal dust-up with Wendigo and the Hulk!
A seminal X-moment! Professor Charles Xavier established a global team of X-Men to rescue his original five students from Living Island Krakoa. The first appearance of Nightcrawler, Colossus, Storm, and Thunderbird.
[RELATED: Recap the X-Men's 4 Seminal Moments]
Jack Kirby's cosmic imagination was in full swing with ETERNALS, his original series about a godlike people locked in conflict with the Deviants and the otherworldly Celestials.
A disastrous space mission that should have ended in death instead gave Jean Grey the unmatched power of the Phoenix. Read the "Phoenix Saga" in full!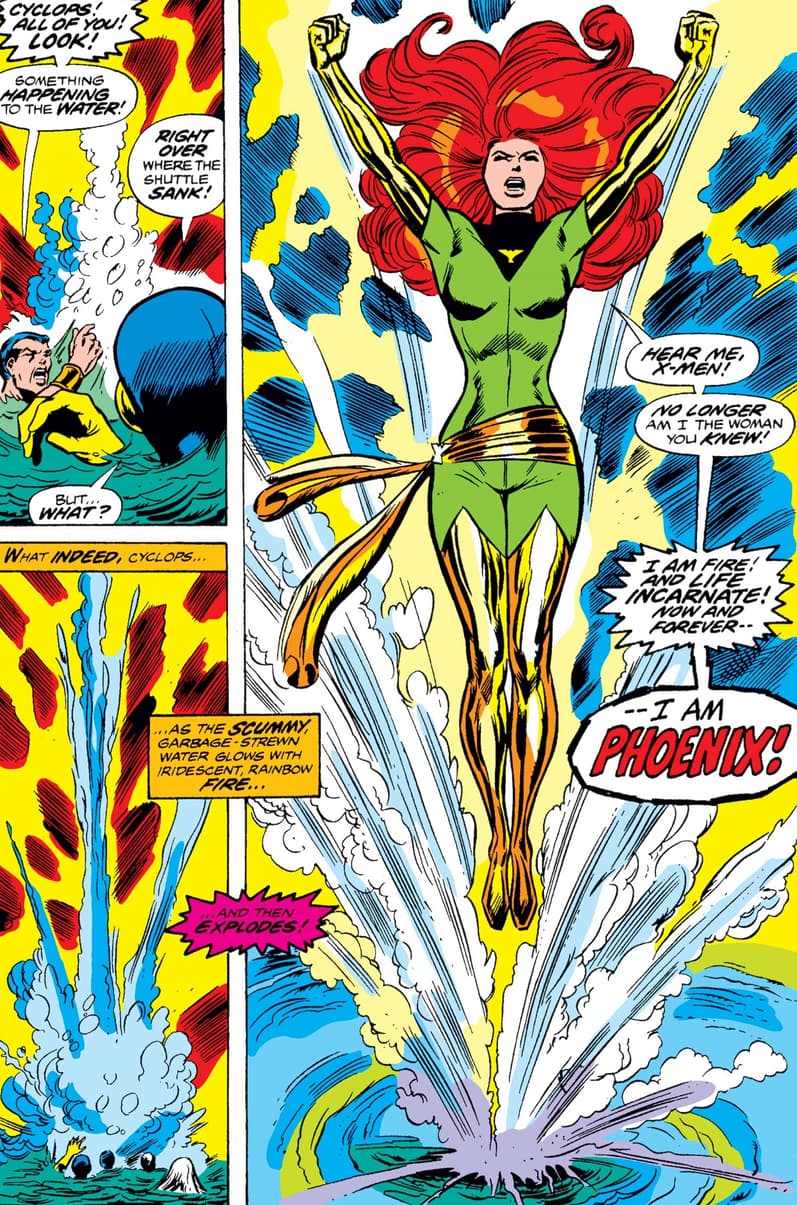 One of the most celebrated stories in X-Men history. Kitty Pryde, the X-Men's youngest member, must prevent a catalyzing event in the team's past to prevent a dark future. Read "Days of Future Past" here!
Bullseye vs. Elektra. And only one will walk away. A turning point issue from Frank Miller's Daredevil run!
Mirage. Wolfsbane. Sunspot. Cannonball. Karma. Meet the first class of New Mutants in their origin story by Chris Claremont and Bob McLeod.
24. THOR #337 (AUGUST, 1983)
The beginning of writer and artist Walt Simonson's legendary Thor run! And he kicked things off with the introduction of Beta Ray Bill. Read through issue #382.
Matt Murdock's career and name is ruined by Kingpin in this acclaimed redemption arc. Daredevil lost it all… and fought desperately to gain it back. Read "Born Again" today.
The origin of Venom! The inheritor of Spider-Man's black suit was disgraced journalist Eddie Brock, a one-track-minded anti-hero who blamed Spider-Man for his career going up in flames. Venom was unleashed, and the rest is history.
The Merc with a Mouth goes blow for blow against Cable and his teen commando squad in Deadpool's first appearance!
The SNAP! heard round the universe. Thanos destroyed half of all universal life when he completed his Infinity Gauntlet quest. Read the full INFINITY TRILOGY today.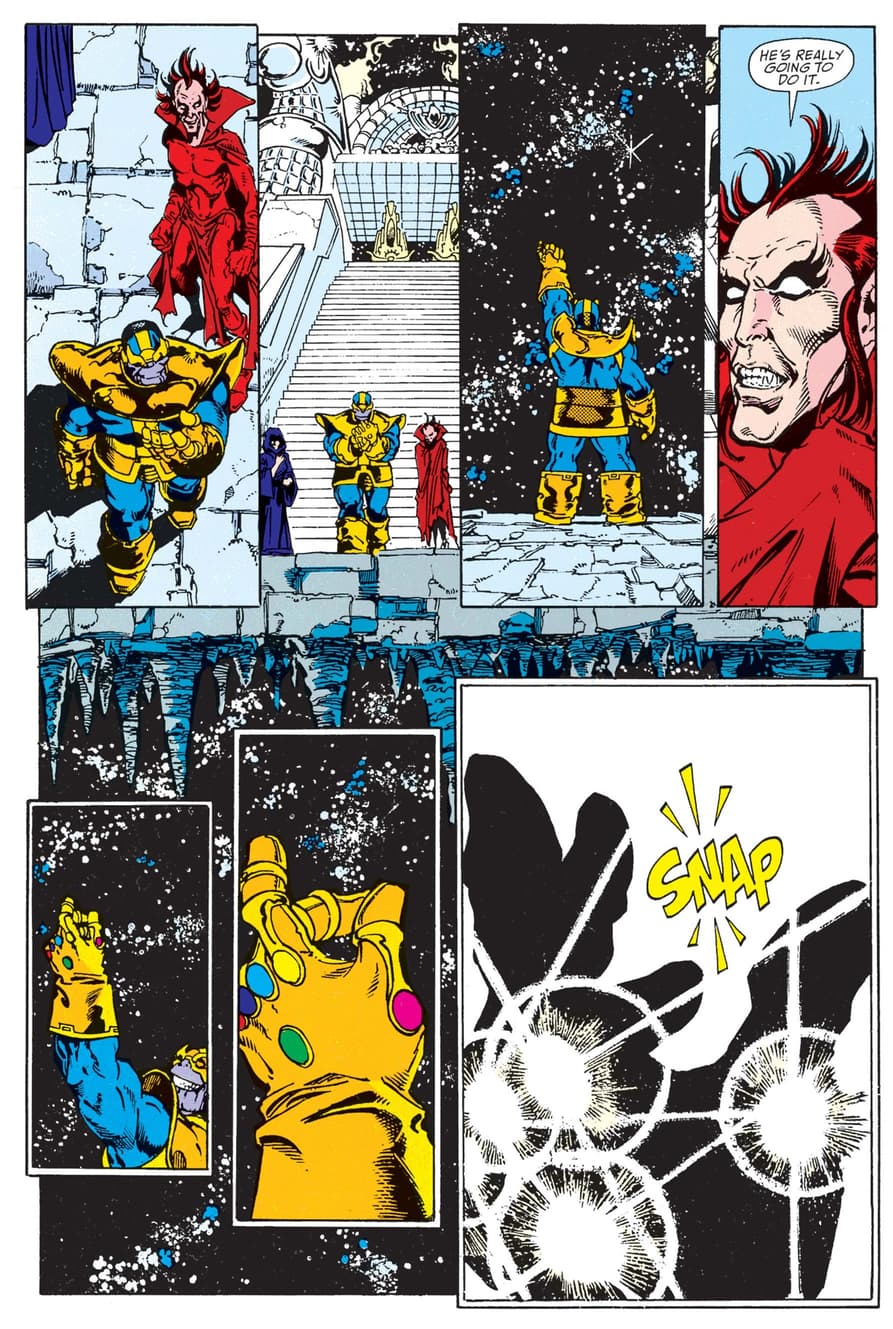 29. X-MEN #1 (October, 1991)
Another seminal X-moment! The dynamic duo of Chris Claremont and Jim Lee divvied up the X-Men into two distinct squads following the X-TINCTION AGENDA event. The result? A game-changing issue #1 that still maintains its record as an industry best-seller.
Alpha Flight's Northstar becomes Marvel's first openly gay character in a watershed issue.
For many, Christopher Priest's BLACK PANTHER run is the definitive T'Challa, and has been collected across several volumes starting here. This series was also noteworthy for introducing the Dora Milaje, the all-female warrior force that are Wakanda's guardians and soldiers.
A staff and fan-favorite, this Spidey run can't be missed. Peter gets a revamped origin in this resonant series, covering his first days as the radioactive Spider-Man.
What would you do if you discovered your parents were Super Villains? For seven Los Angeles teens, the answer was simple: band together, and do extraordinary good with extraordinary power. Meet the Runaways in a debut by Brian K. Vaughan and Adrian Alphona.
Superstars Ed Brubaker and Steve Epting begin one of the greatest Captain America runs of all-time! The Red Skull is back and possesses the one thing that could make him unstoppable—the Cosmic Cube. The story that gave us Winter Soldier: Bucky Barnes.
35. HULK #92 (February, 2006)
A barbaric alien world. A crash-landed warrior from an unknown place. A quest for freedom that becomes the legend of a king. Read PLANET HULK by Greg Pak, Carlo Pagulayan, Aaron Lopresti, Jason Keith, Chris Sotomayor, and more today!
Captain America. Iron Man. Whose side are you on? In CIVIL WAR, hundreds were left dead in Stamford, Connecticut, casualties of a nuclear superhuman incident that left a chasm of grief and confusion in the Super Hero community.
SECRET INVASION rewrote the rules of the Marvel Universe when Skrull imposters replaced key Avengers, bigtime heroes, and world leaders in a carefully staged attack. This insidious takeover left almost every super-team questioning: "Who Do You Trust?"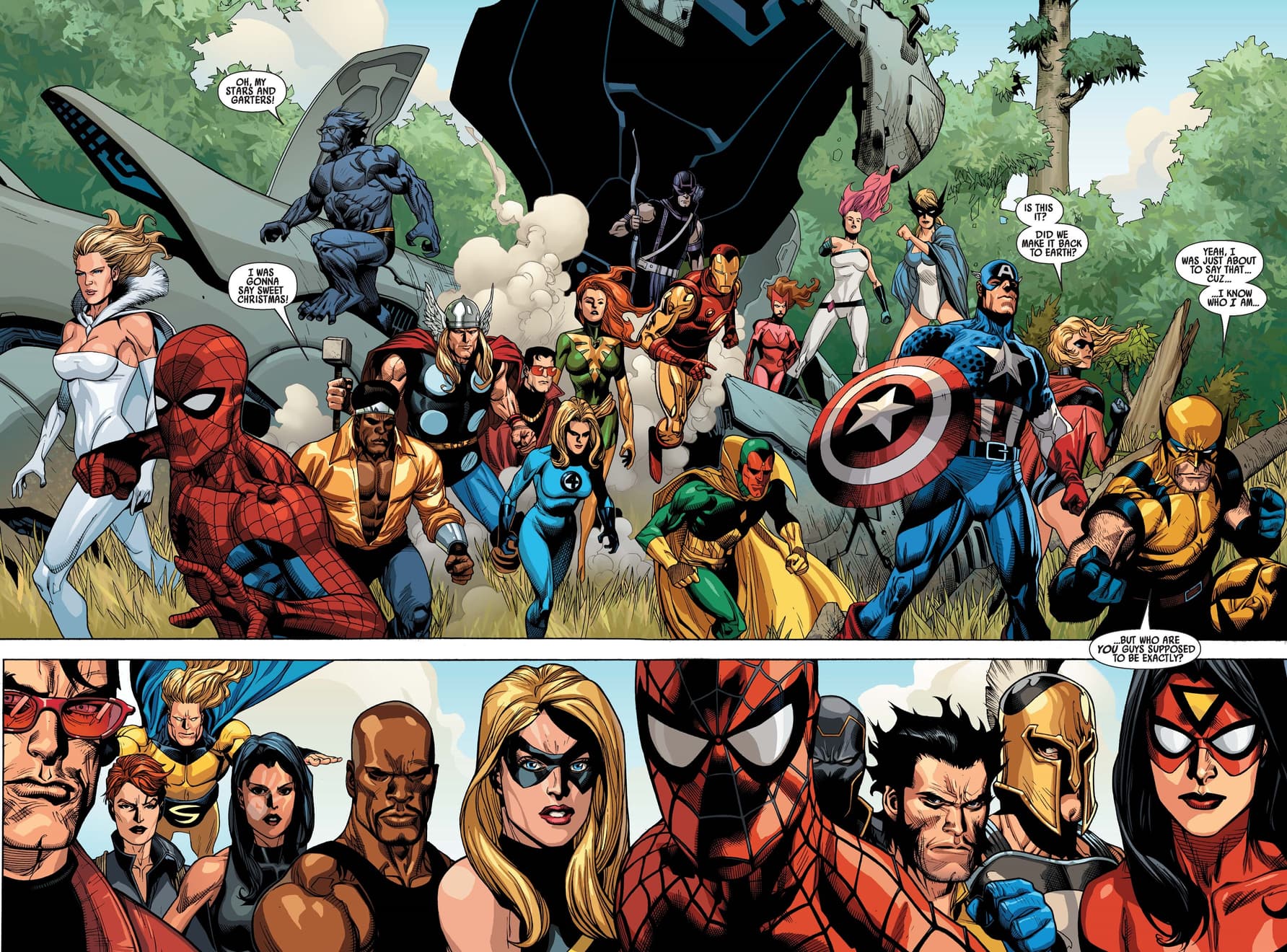 A resurrected Star-Lord leads a ragtag cosmic crew including Mantis, Groot, and Rocket. Introducing the modern-day Guardians of the Galaxy.
Who is the Blue Marvel? Adam Brashear is a scientific prodigy who became a human anti-matter reactor following an experiment. After serving with the U.S. Marine Corps, he would go on to become America's most celebrated hero… until his secret was revealed.
[RELATED: Writer-Actor Kevin Grevioux on 'New Warriors' and Creating Blue Marvel]
Miles Morales' origin series! Follow the young Wall-Crawler's learning curve toward becoming a hero.
A cross dimensional team-up (and the first meeting) of Peter Parker and Miles Morales! A limited series with sensational art by Sara Pichelli.
If you're a member of the Carol Corps, you'll love this defining run written by Kelly Sue DeConnick.
Matt Fraction and David Aja reunited to tell the ongoing tales of the Arrowed Avenger. Clint Barton and Kate Bishop mean double the trouble in this Eisner-winner.
A thunderous intro to Jason Aaron's THOR. The Odinson vs. Gorr, the God Butcher!
Writer Jonathan Hickman sets an interplanetary stage in this series featuring one of our favorite Avengers' rosters ever!
[RELATED: Reading Guide: Jonathan Hickman]
A de-aged Loki joined the Young Avengers in this clever run by Kieron Gillen, Mike Norton, Jamie McKelvie, and more.
Meet the cultural phenomenon that is Kamala Khan, Jersey City's Inhuman hero.
The SPIDER-VERSE event gave us Spider-Gwen! On Earth-65, it was Gwen Stacy who was bitten by a radioactive spider instead of Peter Parker.
49. THOR #1 (October, 2014)
The beginning of Jane Foster's Valhalla-worthy run as Thor. Continue with 2015's MIGHTY THOR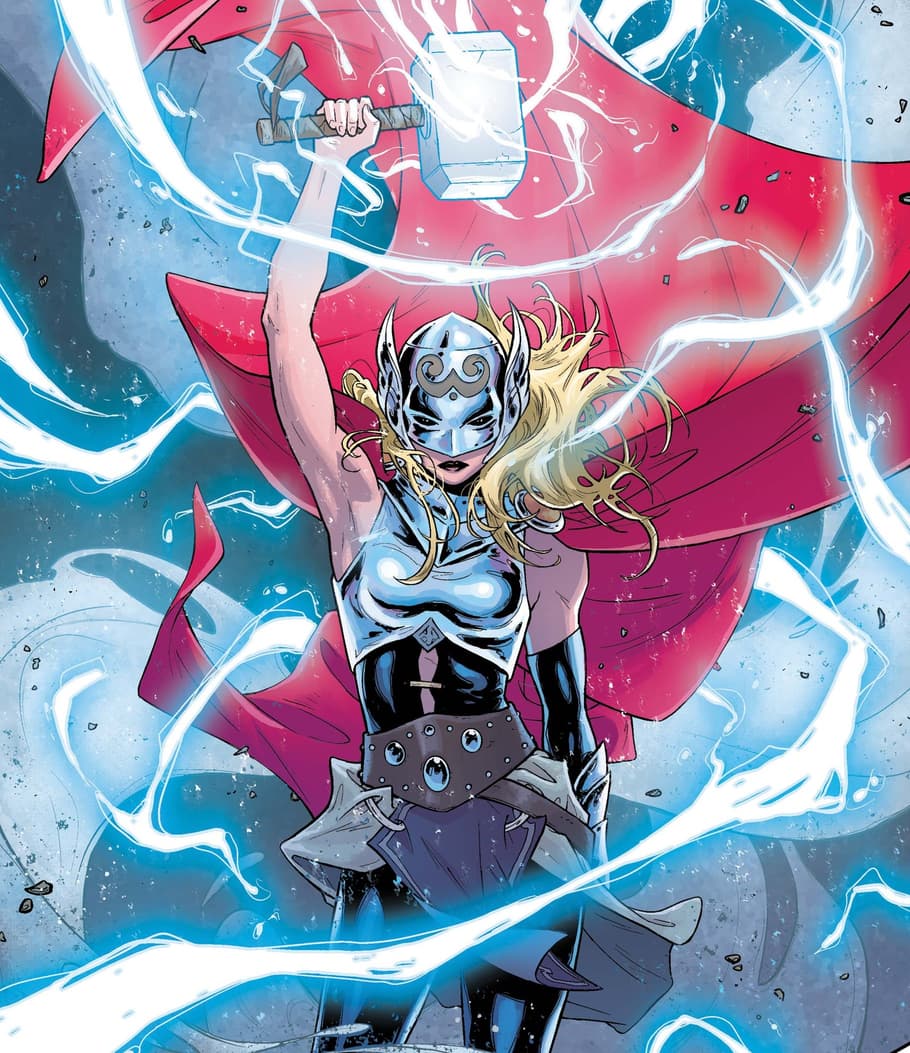 This anthology further develops the mythos of Coates' BLACK PANTHER (2016), offering an origin to the series' featured characters. Written by Coates, Roxane Gay, Yona Harvey, Rembert Browne, with art by Alitha E. Martinez, and Afua Richardson.
60. THANOS #1 (November, 2016)
Ask Marvel's most powerful beings how they fear the universe will end, and they will answer with two words: "Thanos wins." The fallen Titan journeyed to the end of time and his moment of complete victory… and it still wasn't enough.
The breakout star of 2015's DARTH VADER! Following her time in the clutches of Vader, archaeologist/droid expert Doctor Chelli Lona Aphra escaped with her life to scavenge space.
Jessica Jones returned to a solo book after a decade, back in the hands of ALIAS creators Brian Michael Bendis and Michael Gaydos. Discover the haunting secrets from Jessica's past in this blistering series. Alias Investigations is open for business.
Sci-fi writer Saladin Ahmed crafted a story fit for the mind-bending art of Christian Ward in this Eisner-winner starring the Inhumans' Silent King.
Try this fan-favorite by Charles Soule and Giuseppe Camuncoli chronicling the Sith Lord's earliest days as Palpatine's hand.
Marvel's greatest street-level heroes unite forces as New York City's Defenders. Starring Luke Cage, Iron Fist, Daredevil, and Jessica Jones.
Rainbow Rowell and Kris Anka are the perfect creative team-up on the Runaways' stylish reboot.
Want to get to know Shang-Chi, Master of Kung Fu? Start with his "day off issue," a pulpy street-level smackdown by CM Punk and Dalibor Talajic.
Steve Rogers. Tony Stark. Thor Odinson. The big three reunited for AVENGERS (2018)—and just in time to save the world from the 2,000-foot-tall space gods known as the Celestials! One of the Avengers' most cosmically-epic arcs.
[RELATED: Meet the Avengers of "Final Host"]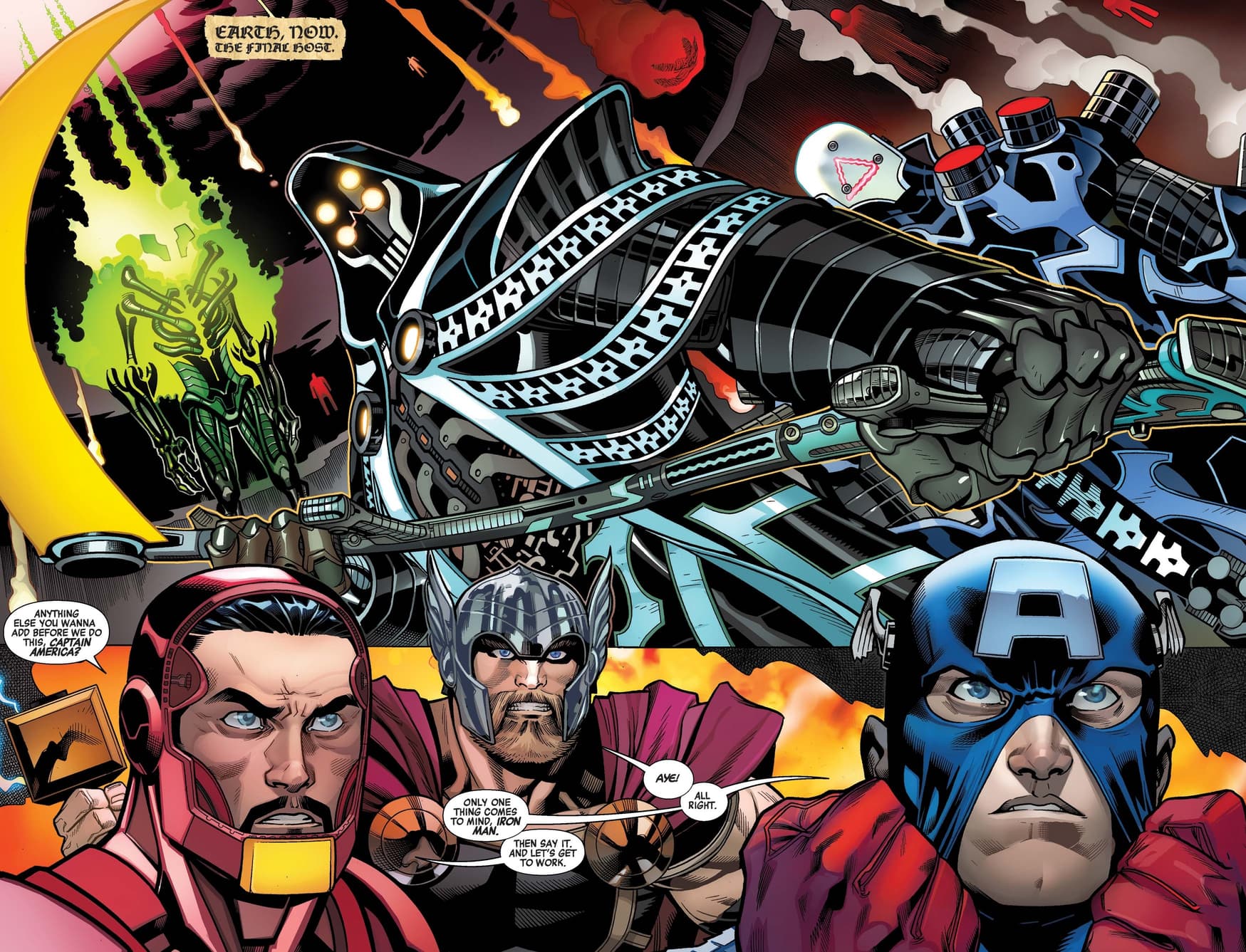 In the wake of S.H.I.E.L.D.'s collapse, an ancient evil was awakened beneath the streets of New York, and with it, something equally evil was awakened in Venom. The prelude to ABSOLUTE CARNAGE by Donny Cates and Ryan Stegman.
Green Goblin + Carnage = the Red Goblin in one of the most exciting stories in all of Spidey lore. Peter Parker had a new purpose after this cataclysmic finale robbed him of a close friend. Start with issue #797.
Zombie horror becomes Bruce Banner in this MU favorite that pits the Hulk against an immortal alter ego—one of several fragmented Hulks lobbying for freedom in Banner's tortured psyche.
Marvel's First Family is reunited by powerhouse creators Dan Slott and Sara Pichelli in the long-awaited aftermath to SECRET WARS!
All the stars align as Kelly Thompson and Carmen Carnero take on Marvel's cosmic Avenger!
A team of visionary creators usher the X-Men into a bold new age on the island-nation of Krakoa in HOUSE OF X/POWERS OF X. Continue with the Dawn of X.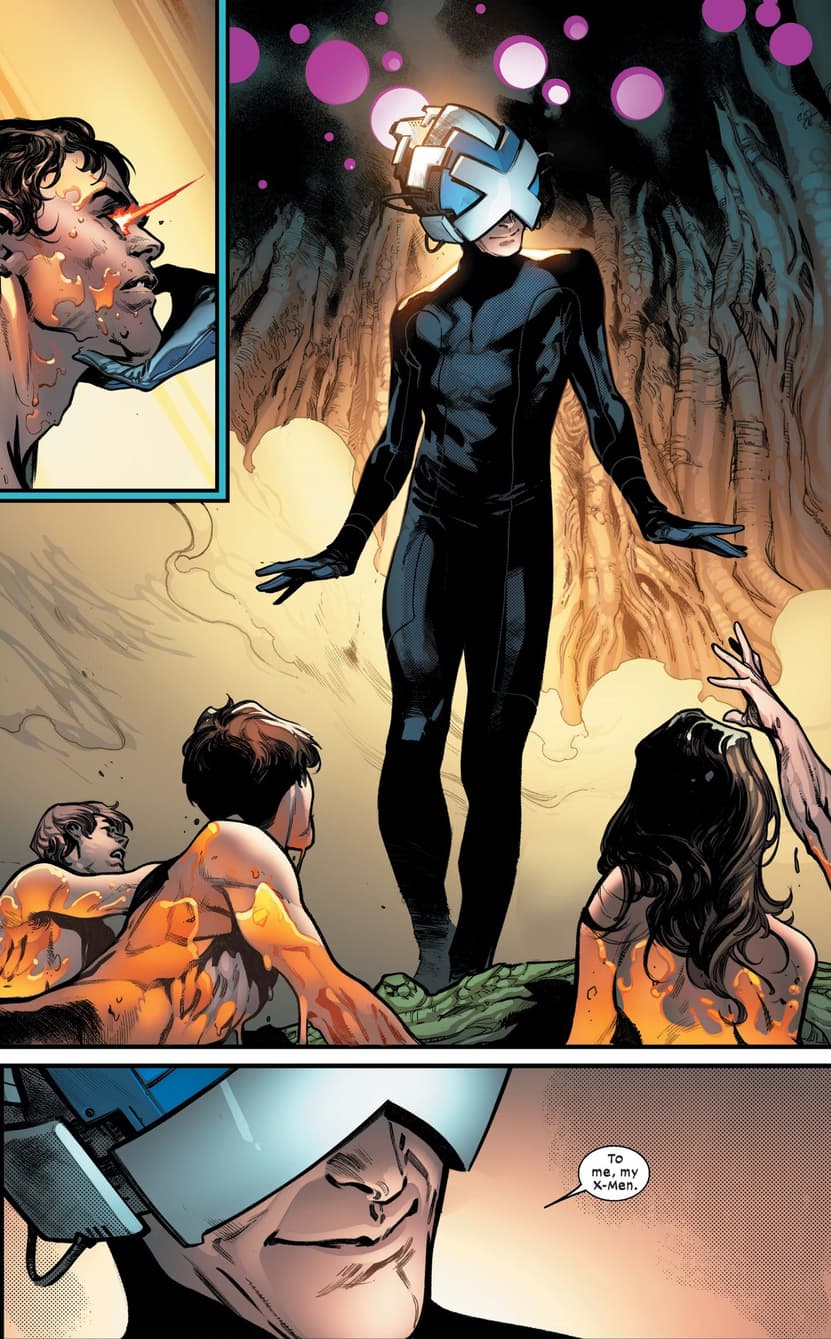 Jimmy Woo. Silk. Brawn. Shang-Chi. Luna Snow. Crescent. Sword Master. Aero. Wave. White Fox. Mission commander Woo sent out this team to defend the cross-Asian portal city of Pan, a technological dreamworld as dangerous as it is visionary.
Intrigue abounds in this noir-ish caper that sees Black Widow tie up loose threads from her soaked Red Room ledger.
Once, Doctor Strange lost the use of his hands in a car accident. Here, those abilities are restored, kicking off a new, powerful chapter for Earth's Sorcerer Supreme.
78. X-MEN #1 (October, 2019)
The X-Men find themselves in a whole new world of possibility powered by the life-giving properties of Krakoa. The saga of Cyclops and his hand-picked squad of mutants.
By an all-star roster including Method Man, Charlamagne tha God, Vita Ayala, and more. Marvel's podcast series takes to the page in a mega-sized one-shot!
[RELATED: So, What Is Marvel's Voices?]
Our latest cosmic epic. The Kree. The Skrulls. United against all of humanity. The Fantastic Four, the X-Men, and the Avengers have been called in to level Hulkling's newly-formed Empire.
The original futurist hero gets a new partner—Patsy Walker, AKA Hellcat!
For millions of years, one hundred Eternals have roamed the Earth, secret protectors of humanity. Without them, we'd be smears between the teeth of the demon-like Deviants. Their war has waged for all time, echoing in our myths and nightmares. But today, Eternals face something new: change. Start here for a new vision of the classic Marvel mythology!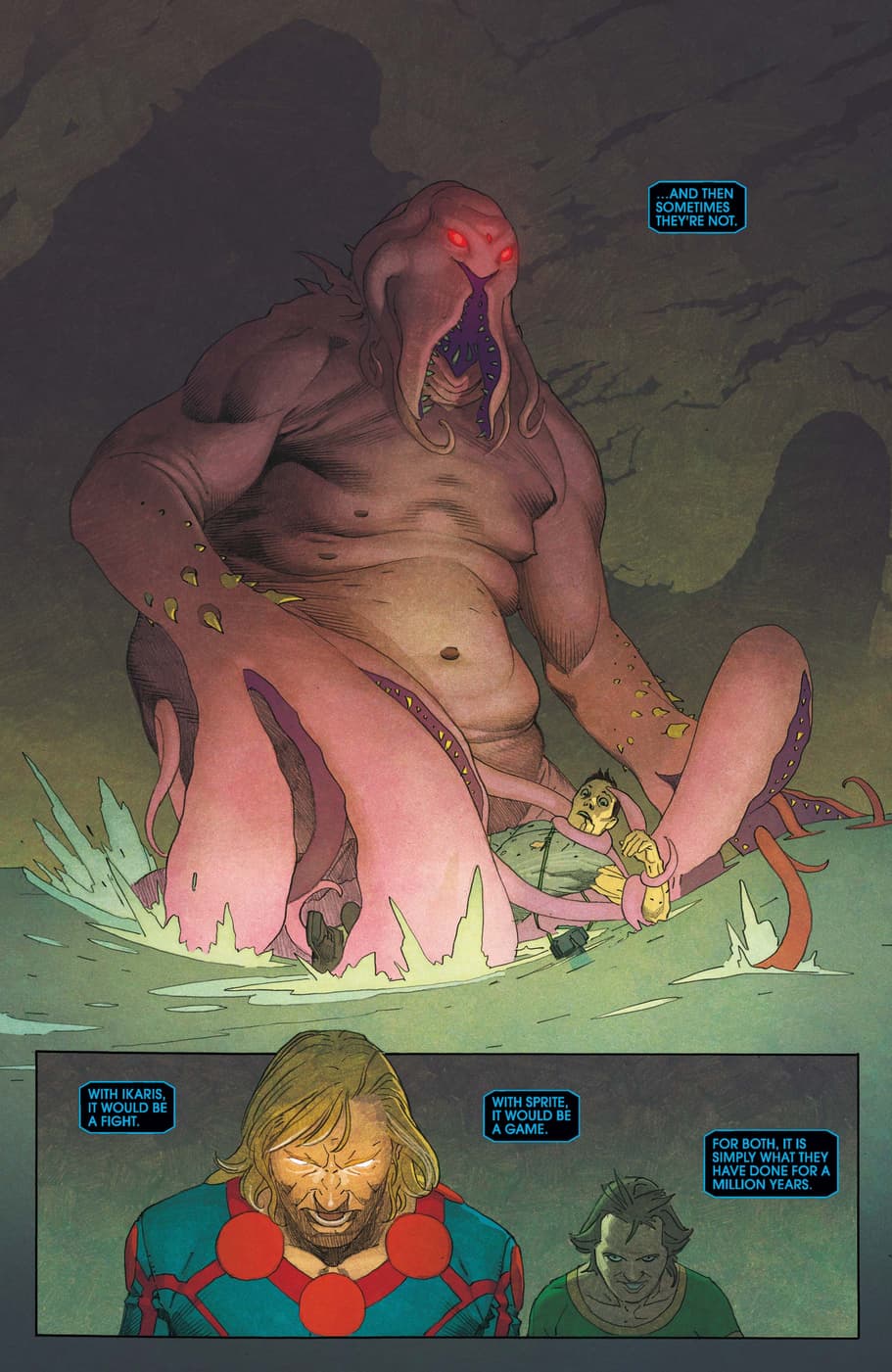 Follow Marvel Unlimited on Twitter and Facebook to stay tuned in to weekly announcements, articles, and more, all at @MarvelUnlimited. Follow us today to join the conversation with thousands of fellow fans, and let us know what you're reading!
The Hype Box
Can't-miss news and updates from across the Marvel Universe!